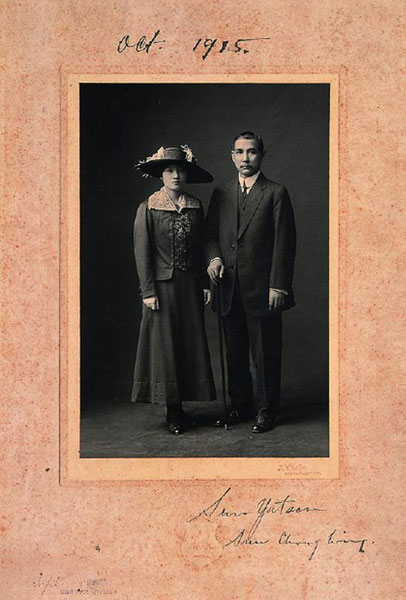 A photo of Sun Yat-sen and Soong Qing-ling taken in Tokyo with Sun's signature. [Photo provided by Shanghai Sun Yat-sen historical residence museum]
The Shanghai Sun Yat-sen historical residence museum collected creative cultural products from across the Taiwan Straits, the first time in its history, as part of a series of activities to mark the 150th anniversary of Sun's birthday, according to thepaper.cn.
The 2016 Shanghai-Taiwan Youth Creativity Cultural Design Competition was unveiled on Monday in Shanghai. The competition, held from August to December, encourages "Sun Yat-sen themed designs of different ideologies and styles to attract people of different ages" by offering pictures of nearly 30 cultural relics as inspiration.
"In the past, our priority was protecting cultural relics instead of utilizing them to promote interaction with the public," said Huang Yaping, an official at Shanghai Sun Yat-sen and Soong Ching-ling (Sun's wife) cultural relics management committee.
He said the collection was inspired by Beijing's Palace Museum after its products attracted lots of online attention last year.
"The Palace Museum achieved a great breakthrough in turning relics into creative products," said Huang, adding that Sun Yat-sen residence museum and Soong Qing-ling residence museum had introduced souvenirs but they were dwarfed by those of the Palace Museum in every aspect.
Sun Yat-sen residence museum, the only cohabited residence of Sun and Soong, witnessed their life in the war time and houses many of their belongings. It is also where Sun's most important book The International Development of China was produced.
"We hope Sun Yat-sen not only to be a political banner but also a culture symbol," said a competition organizer at the news conference.
Pictures of about 30 cultural relics stored in the museum were displayed, including medical appliances Sun used when he acted as a doctor, the photo of him appointed as grand marshal of the navy and army of the Republic of China, photo of Sun and Soong taken in Tokyo with Sun's signature and the seal of then China Railway General Company among others.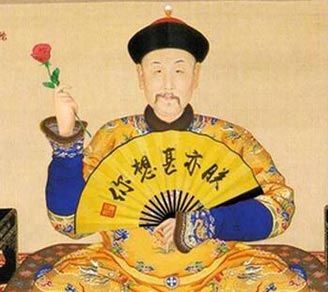 A fan with characters written by Emperor Yongzheng (which translates to "I miss you much, too"), is sold by the Palace Museum. [Photo/Agencies]
Related:
When Palace Museum meets creativity
Palace Museum sees souvenir sales boom