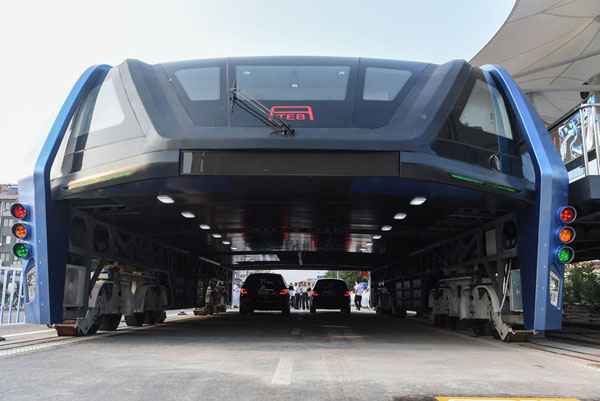 The transit elevated bus TEB-1 is on road test in Qinhuangdao, North China's Hebei Province, Aug 2, 2016.[Photo/Xinhua]
Song Youzhou, designer of the tall, lane-straddling bus known as batie, which allows cars to pass beneath, said the bus can run smoothly despite doubts people have raised, paper.cn reported on Monday.
The feasibility of the so-called Transit Elevated Bus was questioned after a test run earlier this month in Qinhuangdao, Hebei province.
The bus, 4.8 meters high, 7.8 meters wide and 22 meters long, is designed with a passenger area, with a capacity of 300, high above the road, according to its maker, TEB Technology Development Co.
The legs of the bus reach over lanes of ordinary traffic, creating a sort of moving tunnel. Vehicles less than 2 meters high can pass beneath it.
The bus was designed to relieve traffic pressure on roads, the company said.
But media and netizens questioned whether the bus would really work as expected, because some vehicles are taller than two meters and the huge vehicle could meet many challenges on the road.
According to Song, more than 90 percent of the vehicles in cities are sedans and SUVs which are 1.6 m to 1.8 m in height.
"Most of them can run under the bus, thus helping improve the utilization rate of roads," Song said.
About how to cross existing bridges, Song said the TEB concept envisions variable designs for different cities based on the width of roads and characteristics of bridges along its route.
"If the bridges are low, the top cover of the TEB will be made to be adjustable up and down, allowing it to pass," Song said.
Some netizens also questioned whether the bus, large as it is, might weigh too much.
Song said a TEB carriage weighed about 36 metric tons at most, which included the weight of the carriage and 300 passengers. That's less than trucks carrying stone, which usually weigh 90 tons, he said.
Yang Tao, chairman of Nanjing Institute of City and Transport Planning Co, was quoted as saying that even though the gross weight might be OK, either standing still or moving slowly, "the special structure might not be safe running at more than 30 km per hour".
According to Song, countries including Brazil, Spain, Mexico and Argentina had expressed interest in the buses.
The company also reached agreements with several domestic cities to invest.
Song said it was expected that the world would need 500,000 TEBs in the future.
"At present, we are just doing experiments," Song said, adding that the TEB could be running on roads by the second half of 2017.