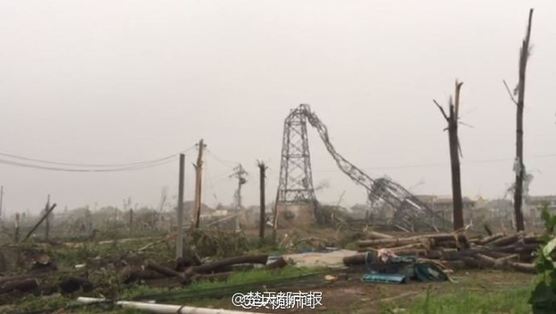 Downpours, hailstorms and a tornado battered parts of Yancheng City at 2:30 pm Thursday. [Photo/Weibo]
When the gales subsided and Xie escaped to safety, all the other houses in the neighborhood had disappeared. "It was like the end of the world," he said.
Xie said he saw utility poles uprooted and his tractors blown away. "I was drowning in my sorrow, until I heard cries for help from a neighbor buried in the debris of her home."
Xie helped the woman out and took her to a hospital 10 km away on his motorcycle. "The road was blocked with rubble and fallen trees. Halfway to the hospital, I met my nephew driving a truck. Together, we put the women into his truck and drove on."
Another villager, surnamed Li, who crawled out of her collapsed house told China News Service she had been outside when the sky suddenly darkened.
She was scared and found a place to hide, where she heard roaring winds and heavy rain outside that flattened her home.
Xinhua contributed to this story.
Contact the writers at zhuzhe@chinadaily.com.cn