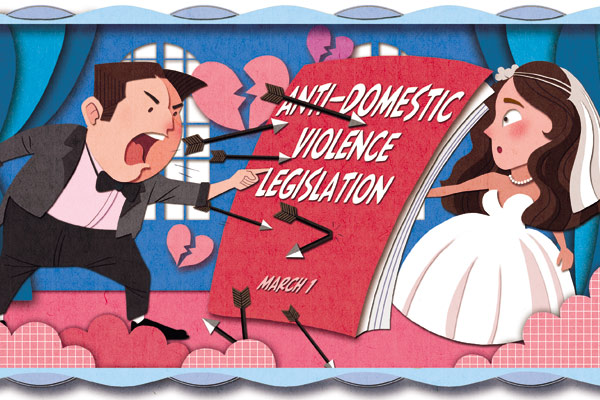 Photo by Song Chen/China Daily
China's first law targeting violence within the home has now come into force, outlining a new approach to spousal and partner abuse and challenging traditional notions about family values. Luo Wangshu reports.
As China's first national law against domestic violence comes into force, legal professionals across the country are predicting a sharp decline in the number of cases of spousal and partner abuse.
"Domestic violence won't stop until offenders see the actual punishments when the law comes into force (on Tuesday)," said Wang Xinliang, a lawyer with the Shandong Xinliang Law Firm, who added that the message will really be driven home when restraining orders and warnings are issued.
The legislation, the second and final draft of which was approved by the State legislature in late December, has been hailed as a milestone in the movement to protect women from physical and psychological abuse at home.
"The new law signals huge progress in the move to eradicate the harm and fear that results from domestic violence," said Li Mingshun, a professor of law at the China Women's University in Beijing.
Xue Ninglan, a researcher at the Chinese Academy of Social Sciences, said the legislators have adopted a number of unusual tactics. "Some articles in the law emphasize the prevention of domestic violence within the context of society as a whole. For instance, one of the stipulations is that employers will be responsible for promoting the message in the workplace, which is a very creative measure." he said.