A central government guideline on urban development issued Sunday that says closed communities will open to the public sparked heated debate among Chinese Internet users, with many expressing concerns about their interests and safety rights if the communities are opened up.
Besides the debates, a thoughtful question is why Chinese cities have had so many closed communities for a long time?
Experts believed that closed communities first appeared in the country more than 2,000 years ago. Closed communities were constructed for different reasons in ancient and modern times.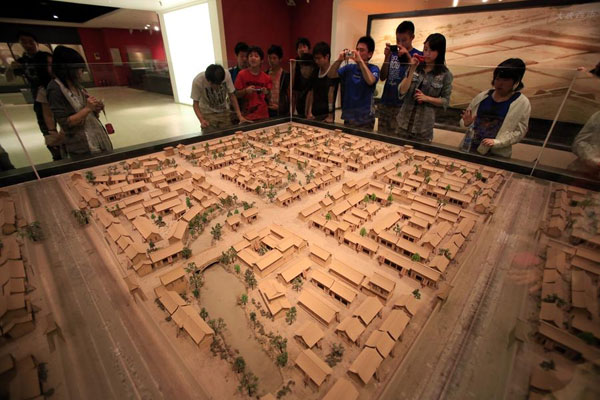 Visitors take photos of a diorama and its miniatures in a walled community, part of the ancient Chang'an city, capital of the Tang Dynasty (618-907), in Xi'an in the northwestern province of Shaanxi, May 10, 2014. [Photo/Xinhua]
Ancient imperial authorities built closed communities in cities to better control residents. Authorities built high walls around the residential buildings, and set up gates where managers would supervise residents going in and out.
Chang'an city in the Tang Dynasty (618-907) was separated into 108 closed communities for residents to live in. The gates would open in the morning and close in the evening.