The death toll of a powerful, shallow earthquake that struck southern Taiwan early Saturday has risen to 17, including a new-born infant, as of 9 pm according to the island's disaster response center.
Previous reports said 462 people were injured in the quake. Over 350 people have been rescued in Tainan city. The rescue is still underway.
So far, 132 people, including 95 adults and 37 children, are still unaccounted for.
The disaster caused the total collapse of eight buildings and the partial collapse of another five in worst-hit Tainan City.
By 8:30 pm, 158 people had been evacuated from the collapsed 17-story Wei Guan building in Yongkang District of Tainan and another seven were sent to hospital, according to the rescue command center for the building.

A total of 256 people were registered as living inside the high-rise in more than 90 households.

The building is a complex of towers whose floors pancaked down onto to each other when the 6.7 magnitude tremor struck at 03:57 am Beijing Time on Saturday, two days before the 2016 Chinese Lunar New Year that falls on Feb 8.
Rescuers mounted hydraulic ladders and a crane to scour the wreckage, plucking more than 120 survivors to safety, with dozens taken to hospital, Reuters reported, citing a fire brigade official.
Elsewhere in the city of 2 million people, several buildings tilted at alarming angles but a fire department official said rescue efforts were now focused entirely on the apartment block.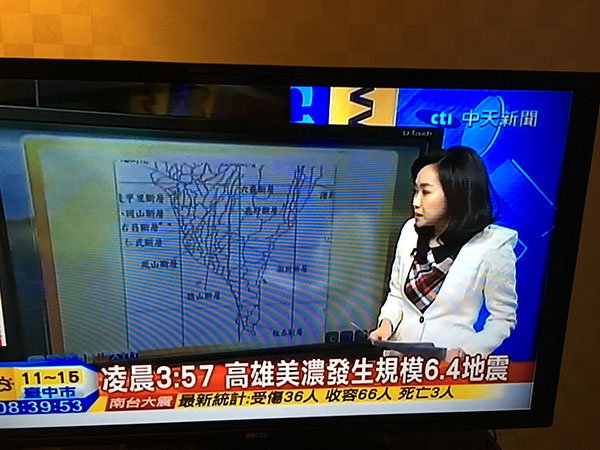 Screengrab of CtiTV reporting that three are killed, 36 injured in the earthquake.
Mainland offers Taiwan quake help
The mainland has offered to help Taiwan following the deadly earthquake.
The mainland's Association for Relations Across the Taiwan Straits (ARATS) has been in contact with Taiwan's Straits Exchange Foundation (SEF) since 6 am, around two hours after the quake struck near the city of Tainan, said Ma Xiaoguang, spokesperson for the State Council's Taiwan Affairs Office.
The ARATS has sent a letter to the SEF offering rescue assistance if needed.
Ma also expressed concern and condolences for those who have suffered in the quake.