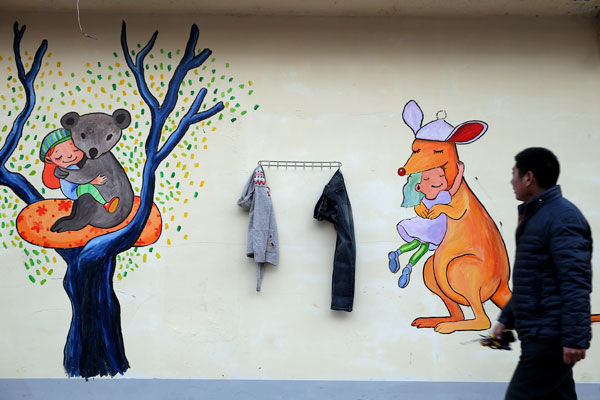 A local resident passes by the cartoon-decorated Wall of Kindness in Zhengzhou city, Central China's Henan province, Feb 2, 2016. [Photo by Hou Jianxun/China Daily]
Since then, kindness walls such as the one in Liuzhou have sprung up in Chinese cities, including Zhengzhou, Henan province, and Qingdao, Shandong province.
Wang Jie, founder of the Zhengzhou Wall of Kindness, said donors had taken to wrapping clothes in plastic bags and protecting them from the elements following recent snowfalls.
Meanwhile, in Qingdao, hooks and hangers have appeared on the side of a building under the words: "If you need something, take it.""It is just like what you would do at home. You hang up your clothes when you have finished wearing them and you take them down again and put them on when you are going out," said Wang Lei, director of Chuangyi Workshop, a local charity organization that is spearheading the program in Qingdao.