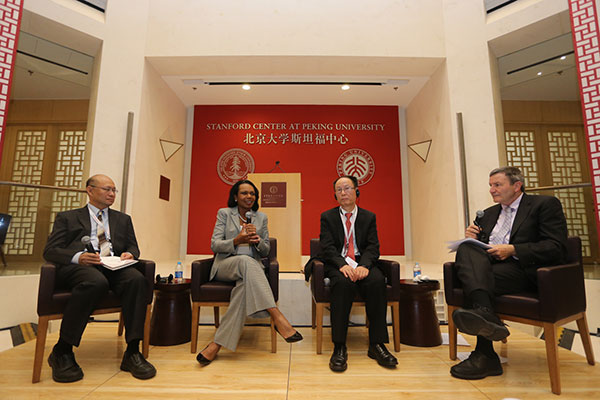 Condoleezza Rice talks with other panelists at the Lee Shau Kee world Leaders Forum at the Stanford Center at Peking University in Beijing on Tuesday. [Photo provided to chinadaily.com.cn]
China should manage the downsides brought about by technology while enjoying the development during rapid urbanization, said Condoleezza Rice, former US Secretary of State and a current professor at Stanford University during a forum in Beijing on Tuesday.
She recognized that China has made an impressive achievement in past decades but faces the challenges of urbanization, which it shares with other developed and developing countries.
"There was a time when people thought of China only as a provider of low-cost labor in the international environment, a big exporter of goods, a major consumer of commodities depending on government investment," she said.
According to Wang Yiming, deputy director general at the State Council Development and Research Center who attended the forum, the urban population has increased from 170 million in 1978 to about 700 million today.
China has faced tougher urbanization problems than any other country due to its massive population.
Wang said urbanization brings people to big cities where job opportunities are provided and resources located. Cheap labor flocks into the manufacturing industry but migrant workers don't have equal education opportunities.
"Now China needs different development," said Rice. "It needs to be based on innovation, creativity and mobility with people applying technology to solve problems".
Innovation requires its system, environment and eco-system to be continuously reformed, which needs the protection of intellectual property and the rule of law, Rice said.
Development of technology also has its shortcomings such as pollution and global warming that needs to be managed, she added.
Five percent of GDP in developing countries and two percent in developed countries have been lost on dealing with pollution, said Zhu Tong, dean of the College of Environmental Science and Engineering in Peking University.
China is suffering from severe pollution as the consequence of the development of industry. According to Ministry of Environmental Protection, 175 days were identified as being polluted below set standards in Beijing in 2014.
The capital has created policies to decrease pollution such as shutting down factories and checking vehicles.
Traffic congestion is another by-product of rapid urban development in most cities in China. Big cities such as Beijing and Tianjin that suffer most traffic jams have already promoted several regulations to limit vehicles on the road.
"To use innovation wisely before risks occur and to use technologies to solve urbanization issues, people need to combine human potential and technology," said Rice.