A summer stay with US families has ended for 30 Chinese orphans with special needs. All have returned to China, but a large majority of them have found families that want to adopt them, May Zhou reports in Houston.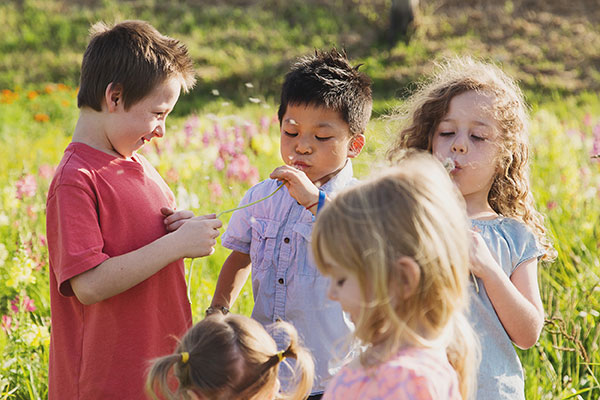 Duo (center), adopted by the Raney family in Portland, Oregon, enjoys a summer day blowing dandelions in a field with his siblings. PHOTO PROVIDED TO CHINA DAILY
Jack, a 10-year-old Chinese orphan, blew out his birthday candles on the last Saturday of July, surrounded by his host family in Garland, Texas.
Jack is one of 30 Chinese orphans with special needs who arrived in the United States in mid-July for a four-to five-week stay with families across the nation. Seventeen of them stayed with families in Texas. All of the children have returned to China at the end of their stay, but about 80 percent of them have found families that want to adopt them. The remaining children are still looking for a home, but "it changes daily", said Shannon Phillips, director of the orphan hosting program Great Wall China Adoption.
GWCA, an Austin, Texas-based agency, has been running China hosting programs in the summer and winter for three years. Phillips said the program, designed for Chinese children ages 5 to 12 who have special needs, has improved their odds of finding a permanent home in the US.
"So far we have a success rate of 75 to 80 percent. With each program, we learn more on how to excite people about hosting and how to find the right family for each child," Phillips said.
The program prompted Jack's hosts, elementary school teacher Jill and software engineer Thomas Johnson, into consider adopting.
"We have for a very long time wanted to adopt an orphan because we have a heart for them. Their parents, for whatever reason, were unable to take care of them. But we have the opportunity and means to do so, and we want to help," Jill Johnson said.
The Johnson's have four boys of their own, aged 16 to 22.
In February, the Johnsons read about the GWCA program on its website. "When I saw Jack's profile, I just knew this is the boy we could bring into our home," she said. "He has such sparkling eyes. I don't know what it is, but there is something about him that says to me: 'This is your son'. Something in my heart tells me that it's him."
"At one time we thought we would adopt a girl, but then we realized that we know boys well. It'd be great for him to have big brothers. The boys are getting along very well," she said.
For Jack's birthday, she went online to search for what a birthday should involve for a child from China. She ended up with a traditional US birthday party of cake, balloons, ice cream and gifts.
Even though Jack is not yet officially a member of the Johnson family, she has started to plan his future: "I want to keep his cultural heritage alive, it is part of who he is. We will get him in class to continue to learn Mandarin. Chinese is a world language that people need to learn anyway. We will figure out where he is heading, what his passion is, where he is going to excel most and encourage him in that."