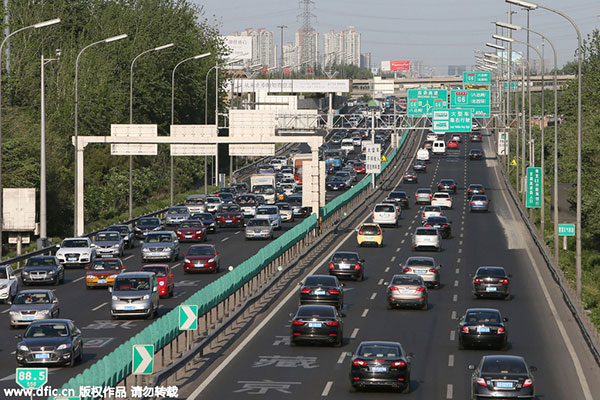 A traffic jam on a Beijing road, May 3, 2015. [Photo/IC]
Vehicles to be restricted on capital's roads; construction and demolition suspended
Beijing plans to guarantee quality air by cutting emissions caused by industrial production and vehicles when it stages military parade marking the 70th anniversary of the end of World War II on Sept 3.
From Aug 20 to Sept 3, the city will restrict the use of private vehicles based on even- and odd-numbered license plates, the municipal traffic committee said on Monday. Electric cars are not subject to the restriction.
Eighty percent of vehicles belonging to local governments, public institutions, social groups and state-owned enterprises will be banned during the period, compared to 70 percent banned when the capital hosted the Asia-Pacific Economic Cooperation summit last November.
All vehicles transporting construction waste, gravel, concrete and dangerous chemicals will be barred from the capital's roads during the 15-day period but the restriction will not apply to buses, taxis and other vehicles such as police cars.
Additionally, production will be suspended at polluting industries and construction sites from Aug 20 to Sept 4. Work will also be suspended at all construction sites and on demolition projects, the Beijing Municipal Commission of Housing and Urban-Rural Development said Monday. The city will also shut down or limit production at some factories to further reduce emissions, the Beijing Municipal Commission of Economy and Information Technology said Monday.
Five neighboring provinces and a municipality will also roll out similar measures to help ensure cleaner air in the region, Beijing Times reported Monday.
The measures will ensure air quality for the IAAF World Championships 2015 in the capital from Aug 22 to 30 and celebrations marking the anniversary of victory in World War II on Sept 3.
Beijing took similar measures during the APEC summit held last November. Thanks to the tough measures, air quality in the region was greatly improved, leading Chinese netizens to coin the phrase "APEC blue" to describe the sky during the week in Beijing.
Air quality in 74 major cities across the country has generally improved in the first half of the year, with days of clear air accounting for 68 percent, up by 6.9 percentage points year-on-year, the Ministry of Environmental Protection said in late July.