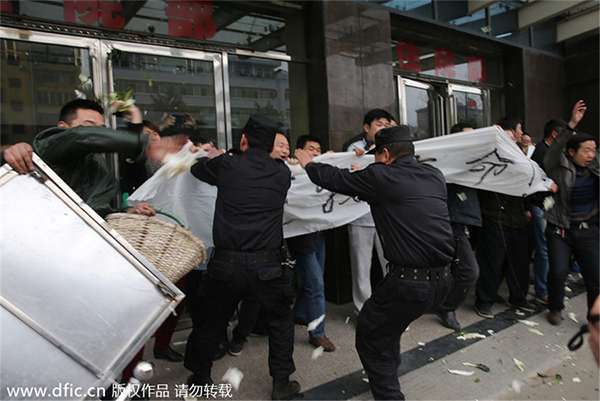 People playing the role of relatives of a patient in a simulation exercise at the entrance of a hospital building, shout and unfold banners, and clash with other participants playing the role of police and doctors, in Laohekou city of Central China's Hubei province, on March 19, 2014. The drill was initiated by the hospital and local police.[Photo/IC]
GUANGZHOU -- A total of 600,000 Chinese doctors have signed their names to an online petition calling for the end of violent attacks on medical workers after a physician was injured by her patient in South China's Guangdong province on Wednesday.
The police in Huizhou city, Guangdong said on Sunday that the suspect, whose surname is Liao, has confessed to the attack on the doctor, Ou Lizhi, from Longmen County People's Hospital.
Attacks on healthcare workers have triggered public outrage, especially in the medical sector. As of Sunday, more than 600,000 doctors had signed their real names to join the social media campaign.
The Guangdong Provincial Commission of Health and Family Planning on Friday evening issued a notice asking hospitals to cooperate with local public security departments to set up police stations in hospitals or have police regularly patrol nearby so they can quickly respond to violence.
It also demanded hospitals put up surveillance cameras and install police alarm equipment.