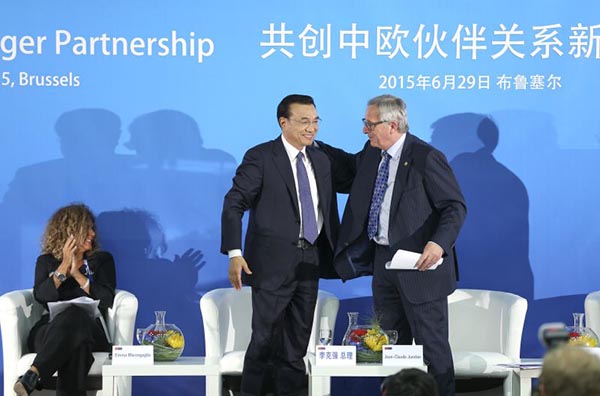 European Commission President Jean-Claude Juncker greets Chinese Premier Li Keqiang at an EU-China business summit in Brussels, June 29, 2015. [Photo by Liu Zhen/China News Service]
BRUSSELS - Chinese Premier Li Keqiang said here Monday that China is considering to kick start a China-EU investment platform to support Europe's economic revival.
Addressing the opening ceremony of a European Union (EU)-China business summit, the visiting Chinese premier said his country is willing to interface with the European Fund for Strategic Investment (EFSI), a 315 billion-euro investment plan initiated by President of the European Commission Jean-Claude Juncker for resuscitating Europe's economy and in particular building large infrastructure.
Seeing the China-EU relationship as one of the most important, stable and constructive relationships in the world, Li proposed to combine China's comparative advantages in production capacity and equipment manufacturing with the advanced technology of European economies.
He called on the two sides to join hands in exploring third-party markets with cooperation in priority areas such as equipment manufacturing.
China and the EU should carry out more advanced financial cooperation in a bid to meet the demand of industrial investments, said Li.
China, he added, will expand its purchase of bonds issued by the European Investment Bank (EIB) and improve the Renminbi Qualified Foreign Institutional Investor (RQFII) system.
In addition, Li encouraged bigger roles of other investment and financing arrangements in the revitalization of the European economy, including the China-initiated Asian Infrastructure Investment Bank (AIIB).
Representatives of the 57 prospective founding countries of the AIIB signed Monday in Beijing an agreement that outlines the framework and management structure for the multilateral financial institution.
Under the initiatives of the Silk Road Economic Belt and the 21st Century Maritime Silk Road, a Silk Road Fund has been set up by China for improving infrastructure connectivity between Asia and Europe.
The fund, said Li, would be used for cooperating with Europe in hi-tech development, infrastructure construction and financial services.