Report finds flexibility, communication skills help them succeed in growing digital sector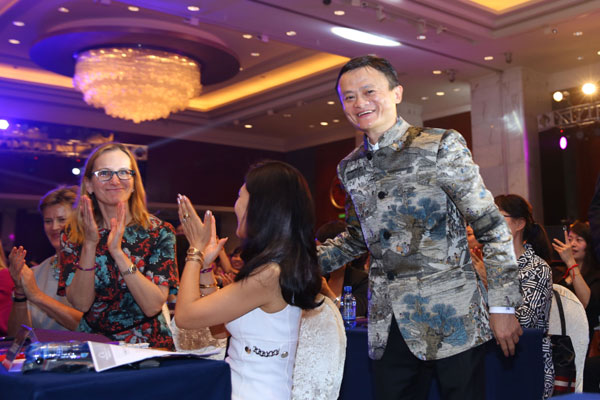 Jack Ma, founder and chairman of Alibaba Group, speaks at the Global Conference on Women and Entrepreneurship in May in Hangzhou, Zhejiang province. The conference discussed the steps needed to encourage more women to pursue business success. [Photo provided to China Daily]
Women born in the 1980s and 1990s display a strong determination to launch Internet businesses and make up the main body of online entrepreneurs, a report has found.
The study by the Alibaba Group also found that 61 percent of female entrepreneurs in online businesses are between 18 and 29, and the average age is 32.6-15 years younger than that of other female entrepreneurs.
The report said women have characteristics and communication skills that differentiate them from men, giving them an advantage in the online business sector.
"They (women) are more perceptive, flexible and ready to share with others. These are virtues needed in online businesses, which require much interaction with consumers and great attention to consumers' thinking and experiences," the report said.
Liu Sisi, founder of zhiguoguo.com, an online intellectual property rights service provider, agreed.
"Women's mild way of doing things makes it easier for them to bring people together to achieve success in business," said Liu, who was born in 1982.
The former law school student set up her company as a conventional business several years ago, and she and her partners-two women and a man-decided to take it online in late 2013.
Now, having expanded her team to 70-plus, and obtained financing, Liu said the low-key approach adopted by her and her female partners played a key role during the process.
Zhao Xi halted her doctoral studies at Colombia University in the United States last year to start a drones business with two friends.
She is the only woman on the team and the only one with a liberal arts background. As a result, she said, she cannot contribute much to the technical research and development side of the business, but has responsibility for human resources management, finances and tax affairs.
"I think I'm more attentive and better at this kind of stuff compared with my partners, who have a passion for technology-related affairs," said the 25-year-old, who recently won the "best entrepreneurial female award" in a contest.
Zhao said she received the prize because of her communication skills and because her company is engaged in a non-mainstream field that attracts few women.
"I think the award is good for both me and other female entrepreneurs and encourages us to do things that we used to stay away from," Zhao said.
The Alibaba report said female entrepreneurs are entering fields such as digital products and furniture that used to be dominated by male entrepreneurs, while continuing to operate in traditional areas such as cosmetics, maternal supplies, clothing, jewelry and articles for daily use.