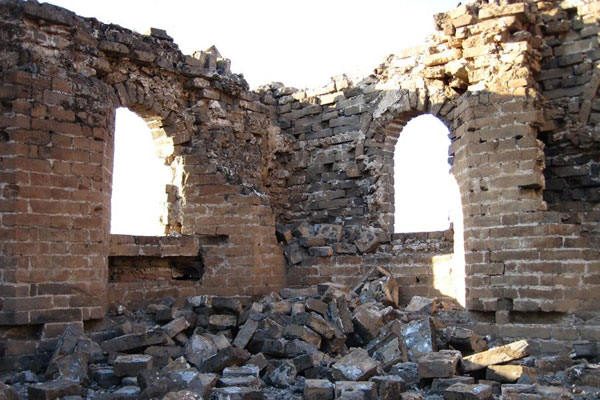 Part of the Great Wall in Chengde, Hebei province, having been damaged by wind, 2013. [Photo/CFP]
Additionally, more people are interested in visiting the "wild" Great Wall, the sections not developed for tourism. Funing cultural relics protection office said that the wild Wall is vulnerable to vandalism.
The Great Wall was built from the third century BC to the Ming Dynasty (1368-1644). The existing sections are mainly the Ming wall, which stretches over 8,800 kilometers. Less than 10 percent of the wall is considered well-preserved, while about 30 percent has disappeared.
Hampered action
In 2006, a regulation on Great Wall protection was released, however, the sheer size of the structure made it difficult to enforce.
Dong Yaohui, vice head of China Great Wall Society, said: "As much of the Great Wall is in the wild it is impossible to ensure intensive protection.
"Local authorities lack the money and labor to preserve the whole structure."
In Funing County, a stretch of around 140 kilometers is managed by nine people. In Zhangjiakou, the wall passes through many impoverished counties whose governments have more pressing priorities. Many sections of the wall, particularly in border areas between provinces, are neglected.
Some well-meaning, but poorly informed officials have taken it upon themselves to restore parts of the wall without staying true to the original character of the structure. A county government in Shandong Province even repaired a 2,000 meter section, which dated back to between 770 BC and 476 BC, in a "modern Ming style", Dong said.