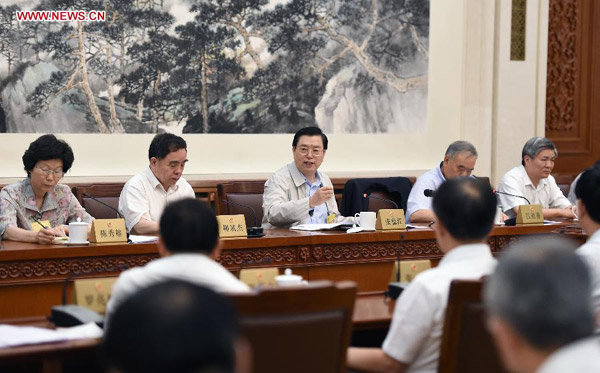 Zhang Dejiang (C rear), chairman of the Standing Committee of China's National People's Congress (NPC), attends a panel session of the 15th meeting of the 12th NPC Standing Committee, in Beijing, China, June 25, 2015. [Photo/Xinhua]
BEIJING - Lawmakers on Thursday hailed a draft legal document requesting officials to pledge allegiance to the Constitution when assuming office.
During panel discussions held by the National People's Congress (NPC) Standing Committee, the top legislature, lawmakers agreed that a system such as this, to be grounded in legislation, demonstrated the authority of the Constitution.
They also said that the draft decision would encourage officials to be loyal to the Constitution and strengthen its implementation.
"The authority of rule of law relies on the Constitution," said Wang Mingwen, a lawmaker.
"Pledging allegiance to the Constitution will help underscore the authority of the Constitution, which should be the 'basic law' that governs the country," Wang said.
Zhang Mingqi, another lawmaker, also said a public pledge of allegiance could encourage officials to abide by and protect the Constitution, and could raise the public's awareness of the Constitution.
Some, however, demanded to know specifically who would be required to pledge.
According to the draft, all officials elected or appointed by people's congresses and their standing committees at both the national and local level, as well as state functionaries appointed by people's governments, courts and procuratorates at all levels should, in the future, take the public oath of allegiance when assuming office.
Zhang Dejiang, chairman of the NPC Standing Committee, attended the panel discussions.