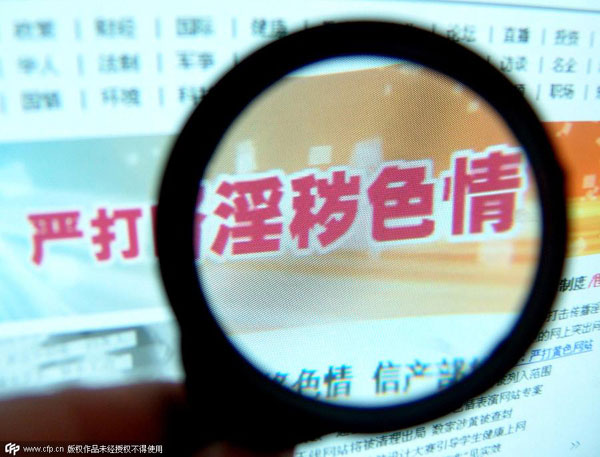 This file photo shows a website against the prostitution. [Photo/CFP]
The monthly number of reports of harmful online material received by China's cyberspace watchdog broke 1 million for the first time in May, and sexually oriented material was the No 1 offender.
The Cyberspace Administration's Internet Illegal Information Reporting Center received 1.75 million reports from the public in May, and it has taken steps, including account closures, in more than 1.22 million instances.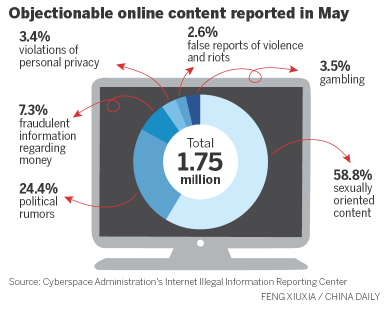 Objectionable online content reported in May.[Feng Xiuxia/China Daily]
According to the administration, 834,000 reports related to sexual material-more than 58 percent of all reports-followed by politics and fraudulent reports.
From May 20 to June 7, the center conducted a campaign to fight online obscenity and clean up the Internet for netizens, especially youngsters who use it frequently.
Hong Daode, a law professor at China University of Political Science and Law, welcomed the move and suggested that public security departments should create teams to monitor the online promotion of prostitution.
To help residents report effectively, the center has opened accounts on WeChat, the most popular instant messaging tool in China, and on micro-blogging platforms, "because most pornographic information spreads via mobile networks", the administration said.
In May, the number of all reports received from mobile platforms reached 900,000, about 57 percent of the total, the authority said. It has built a smartphone app to deal with the load from mobile devices.
For example, some micro-bloggers and WeChat users illegally posted information about prostitution in the name of popular models or celebrities, including actors, while some made use of instant messaging tools to upload sexually oriented videos, according to a statement from the administration.
Some posts can be erased after a smartphone user reads them, making material difficult for law enforcement departments to trace, the authority said, adding that addressing this is a priority.
Some residents reported the posting of private information in an online manhunt, "which has seriously damaged the online environment and gone beyond the legal limits", it said.
The Cyberspace Administration has called on local bodies to pay more attention to the issue and asked them to deal with such reports in a timely manner.
"We will give a quick reply to people who report and provide rewards for those who provide important clues," it said.
From January to May, the center distributed 4.43 million yuan ($713,673) in rewards, hoping to encourage more residents to help it fight harmful posts on the Internet.