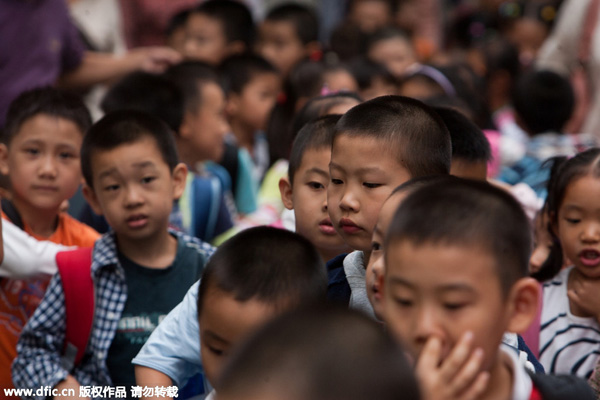 Students walk home after school at a primary school in Wuhan, capital city of Central China's Hubei province, Sept 12, 2012. [Photo/IC]
BEIJING - A string of violent incidents involving minors has caused many people to question whether more attention should be given to the moral, rather than academic, development of China's youth.
A video posted online on Sunday allegedly shows several teenagers burning a first-grade boy with cigarettes in Qingyuan County in east China's Zhejiang Province.
In the clip, which lasts more than two minutes, Xiaomao (not his real name), who is no more than six years old, is tied up and can be heard screaming while a group of teenagers take turns to beat him up.
According to police, Xiaomao was caught shoplifting with two friends in early May. Although he and one of friends managed to run away, one boy was caught by the owner. This boy named one of the teenagers in the video as his accomplice.
In revenge, the teenager and several of his friends tried to intimidate Xiaomao but his father accosted them, so they decided to teach the boy a "lesson".
Bullying, escalating quarrels, battles over lovers, blackmail and sexting. Some people may find it hard to believe - but these things are happening in schools across China.
In early May, media reported that a pupil from Huaiyuan County in Anhui Province tried to extort money from his classmates and forced anyone who disobeyed him to drink urine.
Incidents such as these can have a lasting effect on people.
"My daughter is so depressed she refuses to go to school," said a father whose daughter, a middle school student in Lantian County in Shaanxi Province, ran away from home after she was bullied in school.
Bullying, whether it is verbal or physical, has a serious, often lifelong, impact on people.
A survey by China Youth & Children Research Center last year showed that juvenile delinquents are getting younger and younger, and crimes linked to the Internet or drugs are on the rise.
China has around 279 million juveniles. More than 70 percent of crimes last year were committed by people aged between 10 and 25, the survey said.
"It's a worrying signal," said Luo Kun, vice principal of the primary school attached to Shaanxi Normal University. Although some experts call for stricter punishment, Luo suggests prevention rather than cure.
"Our children need better moral and legal guidance at home and school," he said, adding that parents and teachers pressure students to achieve high scores, but pay less attention to their emotional development, which may fuel violent acts or even crimes in the future.
Luo's view is echoed by Huang Xuan, who is in charge of a program on emotional management and violence prevention for children in Shaanxi.
Huang said teenagers have a cloudy understanding of morals and their personalities are not yet fully formed. If they see that their parents or other adults in real life or on TV shows are violent, they will use violence for power, too.
"So we need to set a good example, spend more time with them, teach them how to tell good from bad," said Zhang Yan, a sociologist with Shaanxi Academy of Social Sciences.