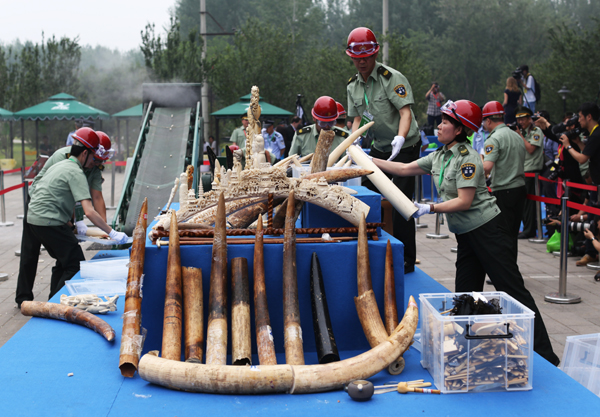 Law enforcement officers destroy confiscated tusks and ivory artworks at the Beijing Wildlife Rescue and Rehabilitation Center on May 29, 2015. [WANG JING/CHINA DAILY]
Authorities have confiscated more than 600 kg of illegal wildlife products during an international joint law - enforcement campaign targeting the illegal trade in endangered wildlife and plants, the State Forestry Administration said on Wednesday.
Officers seized 10 pieces of raw ivory, 292 kg of worked ivory items, 226 kg of pangolin scales and 16.2 kg of products made of rhino horn, along with live animals such as turtles and birds.
During the 23-day campaign that started on May 4, 182 suspects were held in 123 cases involving trafficking and illegal trading of wildlife and endangered animals, the administration said.
The administration cooperated with 63 countries, including South Africa, Thailand, France, Germany and the United States, to fight cross-border trafficking involving Tibetan antelopes, rhinos, redwoods and a variety of other animals and plants.
It was the third joint law enforcement action, code-named Cobra, since 2013 and considered the largest scale, with the most countries participating.
With financial and technical support from Interpol and the World Customs Organization, the countries uncovered 300 contraband cases and captured more than 200 wildlife traffickers.
They confiscated 12 tons of ivory and its products, 187 kg of rhino horn products, 5.2 tons of pangolins and their products, as well as 2,000 kg of redwood and 3,500 cactuses.
Zhao Shucong, head of the State Forestry Administration, said the operation command center is based in Thailand. It draws up detailed action plans and coordinates with other countries and regions to make cross-border arrests.
"We attach great importance to the action and enhanced law enforcement cooperation with some African countries, including South Africa and Kenya," he said. "We share intelligence and conduct joint actions that greatly reduce the occurrence of certain crimes."
In recent years, Chinese criminals have colluded with gangs in Africa to smuggle wildlife contraband and sell it in black markets for huge profits, Meng Xianlin, director general of the Endangered Species of Wild Fauna and Flora Import and Export Management Office.
"The criminal gangs tend to be professional. Gang members assume different tasks, including purchasing, smuggling, transport and sales, to form a secret chain of interest," he said.
According to Meng, some of the traffickers smuggle ivory to Hong Kong or the Chinese mainland for transfer later to the US or Europe, after it is worked into some sort of art.
Hu Wei, deputy director at the General Administration of Customs, said that most of the confiscated wildlife products, such as ivory and rhino horn, was smuggled from Africa either by travelers who carried it in their luggage or through the mail.
He said customs departments will further broaden their pool of clues and assess travelers from key areas and their luggage.
Moreover, it's necessary to enhance judicial cooperation with other countries, especially some Asian and African countries but also the US, so that case information can be shared in a timely manner and investigations can be launched to cut off interest chains between the traffickers and the purchasers, he said.
zhangyan1@chinadaily.com.cn
(China Daily 06/19/2015 page3)