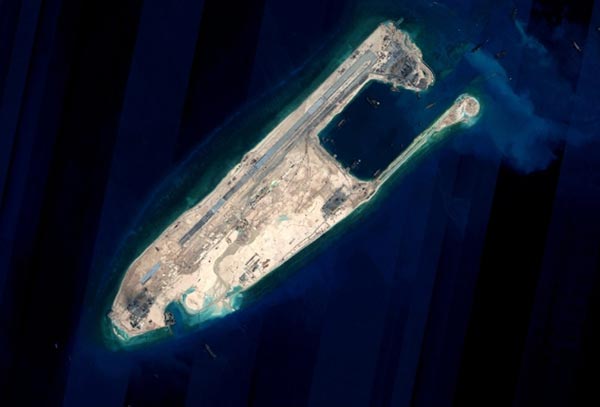 A satellite photo shows completed land reclamation work on the Yongshu Reef in the Nansha Islands. XINHUA
China will complete its land reclamation project on some islands and reefs in the Nansha Islands in coming days as planned, the Foreign Ministry said on Tuesday.
It will then start building facilities "to meet relevant functional requirements", Foreign Ministry spokesman Lu Kang said in a media release.
"Apart from satisfying the need for necessary military defense, the main purpose of China's construction activities is to meet various civilian demands and to better perform China's international obligations and responsibilities," he said.
Lu cited demands such as maritime search and rescue work, disaster prevention and mitigation, and fishery production services.
He stressed that the construction work is within the scope of China's sovereignty and is "lawful, reasonable and justified".
"It is not targeted against any other country and does not affect the freedom of navigation and overflights enjoyed by all countries in accordance with international law in the South China Sea," he said.
China would continue to resolve disputes with other countries under international law and through negotiation and consultation "on the basis of respecting historical facts", Lu added.
Wu Shicun, president of the National Institute for South China Sea Studies, said completion of the reclamation work was not due to outside pressure, but had been planned earlier.
Wu said China, as the largest economy in East Asia and the largest country bordering the South China Sea, has a duty to use facilities on its islands to provide increased public services to the region.
"As it is difficult to solve the South China Sea issue in a short time, why don't the countries involved set aside the dispute and push jointly for cooperation?"
Construction work by China on some of its islands has drawn attention from countries in the region and from the United States.
Wang Xiaopeng, who researches maritime border issues at the Chinese Academy of Social Science, said, "China has maintained a rhythm of protecting its rights in the South China Sea, which cannot be broken by any country or any forces."
Ruan Zongze, vice-president of the China Institute of International Studies, said Tuesday's announcement is a sign of transparency by Beijing that it is acting according to a timetable.
lixiaokun@chinadaily.com.cn