China will continue efforts to crack down on those who profit from helping others delete negative posts or engage in online blackmail, according to the nation's Internet watchdog.
The Cyberspace Administration of China launched the campaign in January, targeting officials in cyberspace and information departments as well as Internet companies, including portals, business websites and social networking accounts.
As of Monday, the administration had shut down more than 100 websites suspected of being involved in online blackmail or accepting money by helping others to delete posts.
Major Internet sites have blocked or shut down nearly 20,000 illegal accounts and deleted more than 210,000 bits of illegal information.
In February, the administration's reporting center received a tip that a reporter from China Economic Net, a business news website, had allegedly blackmailed a company for 300,000 yuan ($48,900) for deleting negative pollution news.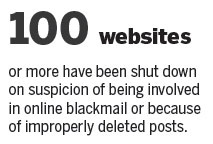 Investigations show that in the past three years, more than 10 companies have been blackmailed. The reporter and his team allegedly made illegal profits of more than 6 million yuan.
A senior official at the administration, who declined to be identified, said those who profit from helping others to delete negative posts or engage in online blackmail can face four charges, including taking bribes, blackmail and operating a business illegally.
The administration has set up a 24-hour hotline, and people providing valuable tips will receive a maximum of 50,000 yuan. There is also a system to protect their privacy and rights.
Yi Shenghua, a Beijing criminal lawyer, said it was time to draw up clear lines of civil responsibility in cyberspace.
"A private agreement to pay for the deletion of a certain type of online posting can be regarded as a form of bribery," Yi said. "We cannot tolerate people disturbing online information by accepting and offering bribes."