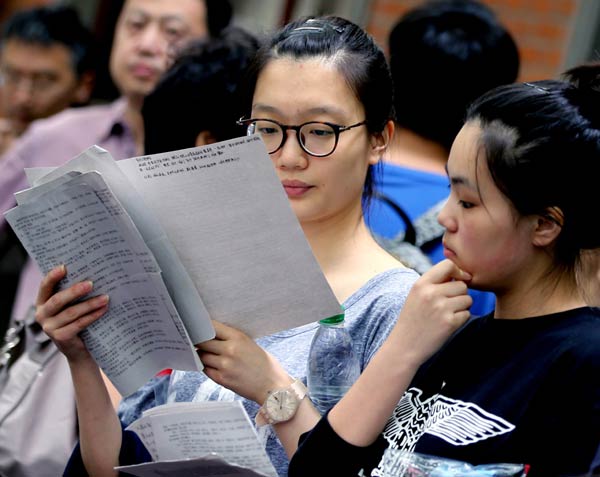 Students make their final preparations before entering the classroom for the national college entrance exam in Shanghai on Sunday. Liu Ying / Xinhua
All of the 9.42 million Chinese students who took the gaokao, or national college entrance exam, on Sunday, know that the results will decide which domestic university they can attend.
However, in recent years, the test score can also help them gain admission to some universities overseas.
Dozens of countries and regions, including Australia, Italy and the United States, have used gaokao test scores for admission criteria.
"What we are willing to do, and have already started taking action on, is to urge overseas universities to recognize gaokao test scores," Yu Jihai, deputy director of the International Cooperation and Exchange department of the Ministry of Education, said last month.
In May, the University of San Francisco announced that it would admit Chinese students on the basis of their gaokao test scores and a one-on-one interview without other admission requirements. This means Chinese students will have opportunities to study in the US "immediately - without spending an extra year preparing for IELTS, Toefl or SAT tests," said Paul Fitzgerald, president of the university.
"Many studies have shown that the SAT is not a very good predictor of how well students will do at a university. We are aware of the many criticisms that have been made of the gaokao, but it has the advantage of being what educational experts call a 'criterion-referenced' exam: It tests whether students are able to master a given body of knowledge, as well as their ability to work hard and consistently," Fitzgerald said on the university's website.
The University of Western Sydney in Australia started accepting Chinese high school graduates in its undergraduate program on the basis of gaokao scores in 2009.
Eliza Chui, education consul at the Australian consulate general in Shanghai, said it has been more than a decade since the Australian government first thought about recognizing gaokao scores.