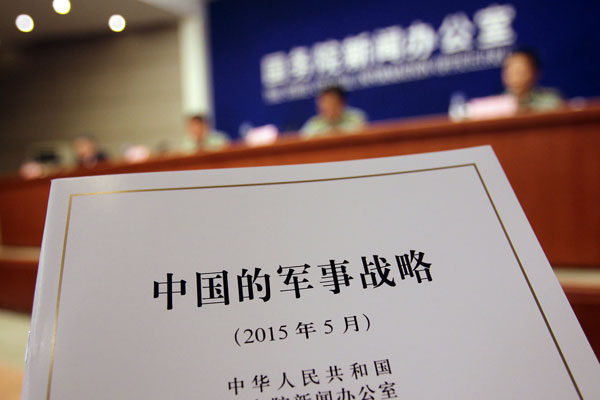 The white paper on China's military strategy is seen at a press conference of the Ministry of National Defense on Tuesday. [Photo by Zhang Wei/Asianewsphoto]
On Tuesday, Beijing issued its first white paper on military strategy, ushering in greater military transparency by giving details of the direction of its military buildup to other nations.
The document of about 9,000 Chinese characters revealed a list of new expressions that have never before appeared in Chinese white papers.
In the preface it reaffirmed China's adherence to peaceful development and its "active defense" military strategy.
It interpreted the policy as "We will not attack unless we are attacked, but we will surely counterattack if attacked".
"China will never seek hegemony or expansion," it added.
On China's security environment, it mentioned increasing security challenges brought by certain countries, citing the growing US military presence in Asia and Japan's major adjustment in its security policies.
For the first time, the paper noted that "some offshore neighbors take provocative actions and reinforce their military presence on China's reefs and islands that they have illegally occupied".
"It is thus a long-standing task for China to safeguard its maritime rights and interests."
Vietnam and the Philippines have kept building on some of China's islands in the South China Sea.
Accordingly, the paper said the navy of the People's Liberation Army will "gradually shift its focus from 'offshore waters defense' to a combination of 'offshore waters defense' and 'open seas protection'".