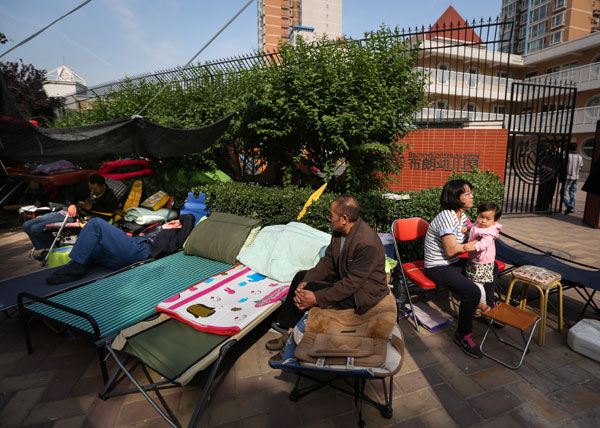 People set up camp beds at Brown's Kindergarten in Fengtai district, Beijing, on Friday to secure places for their children at the school next year. [Wang Jing / China Daily]
Parents and grandparents camped outside a kindergarten in Beijing for five days and nights to ensure getting a place when registration opened on Saturday.
Liu Jipan's granddaughter is 2 years old and expects to start kindergarten in September 2016. To guarantee a place for her, the 64-year-old retired worker slept in a tent for five nights - even though his home is just a five-minute walk away.
Registration began at 9 am on Saturday, but Liu arrived at the kindergarten at 8 am five days earlier. Even so, there were already 80 people ahead of him in the line. The kindergarten was offering 100 places for the coming semester.
"Luckily, the days were not that cold," Liu said, adding that he still brought a thick blanket to sleep under in his tent.
More than 100 parents and grandparents lined up for places at the kindergarten.
"Brown's is our first choice because it is in our residential block. It is very convenient to pick the girl up and drop her off at school," Liu said.
"I don't really know the quality of Brown's. But if many people were lining up for it, it might be good," he said.
On Saturday morning, parents were crowded in front of the kindergarten gate. They were separated by parent volunteers who created a safety fire line. "One parent in the fire line," a volunteer shouted as he guided the line.
About 20 police officers and residential security staff members entered the kindergarten before 9 am.
A teacher surnamed Zhang from the kindergarten said Brown's, which witnessed a similar line last year, does not plan to expand.
The residential block, named Ximajinrun, houses more than 6,000 families. It is located in Fengtai district next to the Dahongmen community, where thousands of migrant workers live.
Most of these workers and businesspeople do not have Beijing hukou - household registration - so their children are not allowed to attend public kindergartens.
"Private kindergarten is my only choice," said Li Guixiang, a parent at the end of the line.
According to the Beijing Education Commission, there were nine kindergartens last year sharing the post code 100068, where Brown's is situated. Six of them are private.
luowangshu@chinadaily.com.cn