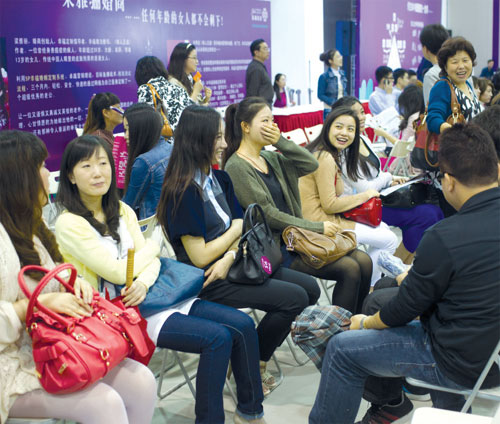 A group of women attend a matchmaking event in Shanghai. [Gao Erqiang / China Daily]
Seventy percent of people born in the 90s believe it is acceptable to develop relationships with rich partners purely for material gain, according to research by Renren, a social website used by young people.
While the phenomenon used to be harshly criticized as unacceptable, the younger generation can understand it while not necessarily agreeing with it.
Renren carried out the research among 2,573 university students, compiling information which revealed that young people's attitudes toward love is changing in China.
Though nearly half said they will follow their heart to find a significant other, young people have several purposes for establishing romantic relationships. About 15 percent say it is due to loneliness. Nearly 12 percent say they only want a companion for study or entertainment.
The survey also showed personality, shared topics and appearance are the top priorities in choosing a partner.
Almost one third of interviewees say dating expenses are paid by parents while another third said they saved from daily expenditure. Only 20 percent earned the money from part-time jobs.
Almost 70 percent said they would keep trying to persuade and reason with their parents if they didn't support their relationships.
The research was released around May 20 (520 sounds like "I love you" in Chinese thus young people celebrate it as China's Internet Valentine's Day) and 1,256 male and 1,317 female students took part.