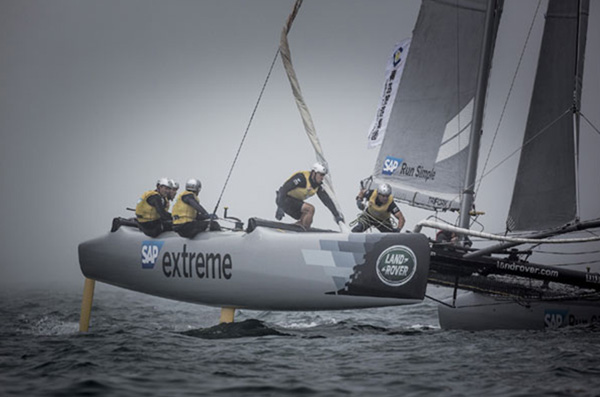 Photo provided by Floyd Images
After mother nature forced the cancellation of racing on day one of the Land Rover Extreme Sailing Series™ Act 3, Qingdao, today the dense fog lifted just enough for Race Director Phil Lawrence to squeeze in nine tight races, in front of the crowd that lined the shores of Fushan Bay. Replay the day's racing here.
On a day where starting successfully and reading the wind shifts paid dividends, SAP Extreme Sailing Team, co-skippered by Jes Gram Hansen and Rasmus Kostner, took control. Executing on-point starts through the reaching line and leading in the deciding first five minutes of each race, the Danish team finished the day with two race wins and seven podium finishes in total, topping the overnight leaderboard with 78 points.
"It was a fantastic day, we can't even count how many first and second places we had. The key factor was our starts, and that is due to our preparation, we have focussed a lot on the reaching starts", said Rasmus on the dock after racing. "I think it all adds up when you perform well, once you know you can do it you believe in yourself so you can start executing it a lot easier."
For Extreme 40 veterans, and two-times Series champions The Wave, Muscat, the day started slowly, tactician Sarah Ayton and skipper Leigh McMillan, taking their time to figure out the light, shifty conditions which ranged from 5-10 knots. However, as the fog closed in and visibility dropped to barely 100 metres, there was a noticeable shift as the team started to show their winning form, finishing the day with back to back race wins. "Our spot on manoeuvres today are all down to the crew, they do a fantastic job when the pressure is on, like it was a few times today", said McMillan. "They can pull them out with no mistakes which can be the difference from being at the top rather than the bottom." McMillan and his team finished the day on 70 point in second place overall, eight points off the lead.
Despite a collision with leaders SAP Extreme Sailing Team in the first race of the day, Gazprom Team Russia have clearly stepped up to mix with the first division at the top of the pack. Clocking the fastest speed down wind, the young Russian team took third overall, just one point behind The Wave, Muscat.
With two days remaining, the forecast is for a shifty unstable wind to settle in from the southeast, and with continued poor visibility, Qingdao is once again pushing the Extreme 40 sailors to their limits.