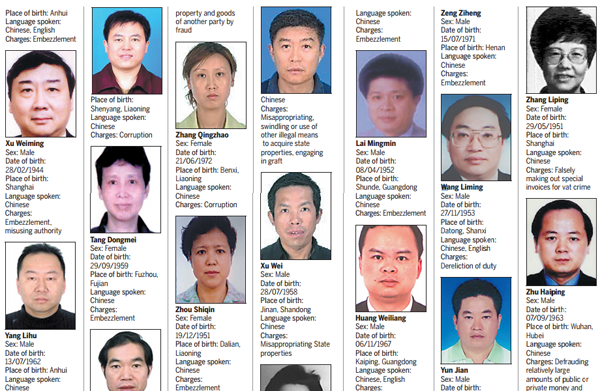 Some of the 100 most-wanted corrupt Chinese officials who have fled overseas. Please click here for a full list of the 100 fugitives. [Photo/China Daily]
China has detained 61 officials in overseas countries suspected of dereliction of duty as of the end of March as the government intensifies efforts to bring them to justice.
Among them 47 turned themselves in, confessed their crimes and returned to China to stand trial, the Supreme People's Procuratorate said on Monday.
The government also caught nine others at customs posts.
The number is 10 times that of the number of corrupt officials caught in the 10 years prior to the government starting to hunt down overseas suspects.
They are suspected of being involved in criminal cases worth around 629 million yuan ($100 million), the top procuratorate said. Among them, 25 are suspected of being involved in cases worth more than 1 million yuan.
The ministries of foreign affairs and public security as well as the Supreme People's Court and Supreme People's Procuratorate issued a notice in October last year that suspects can turn themselves in via letters, telegrams or phone calls through foreign embassies. Families and acquaintances are encouraged to offer tip-offs to police and persuade suspects to turn themselves in.
Those who confess their crimes and return to China voluntarily could be shown leniency. Whistle-blowers and those who recover economic losses could be dealt with leniently, or even be exempted, according to notice.
Since the notice was published, suspects have returned or been brought back from around 20 countries.