China and Pakistan agreed on Monday to continue building cooperation against terrorism and to maintain their fight against the East Turkistan Islamic Movement as part of an upgraded, all-weather strategic partnership.
The security interests of China and Pakistan are closely linked, and the two countries are willing to actively engage in a security concept that advocates common, comprehensive, cooperative and sustainable security in Asia, according to a joint declaration signed by the two governments in Islamabad, Pakistan, hours after President Xi Jinping arrived in the country for his first state visit.
China and Pakistan will strengthen their defense ties and cooperation against terrorism, and work closely on international and regional security affairs, in order to jointly safeguard common security interests between the two countries, the declaration said.
Xi said China values Pakistan's contribution to the global fight against terrorism, firmly supports Pakistan's strategy against terror based on its national conditions, and is willing to support the country in its efforts to enhance its anti-terrorism capabilities.
Pakistani Prime Minister Nawaz Sharif said: "I assure President Xi that Pakistan considers China's security as important as its own. We will continue to cooperate in the fight against terrorism."
Both countries will continue using existing mechanisms of strategic dialogue and counterterrorism consultation to further enhance coordination and understanding, the declaration said.
Du Youkang, head of Fudan University's Center for South Asia Studies, said security cooperation between the two countries is necessary.
"Afghanistan is a neighbor to both countries, and the anti-terror campaign there is struggling after the US withdrew its troops," Du said. "The neighboring countries should work together to protect the stability of Afghanistan. Otherwise, major economic projects will be at risk."
Du added that Pakistan has suffered greatly from the US-led anti-terror war, and it now lacks money and suffers electricity shortages and a lack of technical expertise, which China can provide.
Contact the writers at zhaoyanrong@chinadaily.com.cn and wujiao@chinadaily.com.cn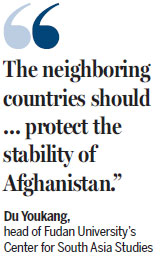 (China Daily 04/21/2015 page6)