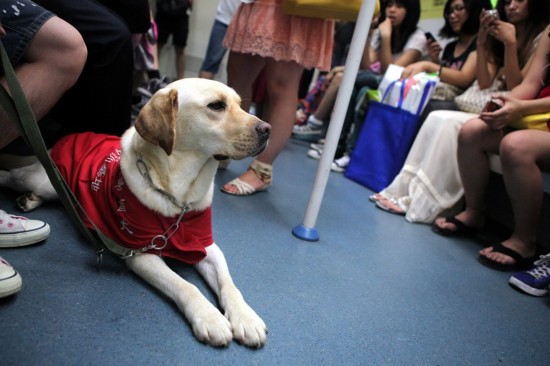 This undated photo shows a guide dog in a subway. [Photo/Xinhua]
China's railway authorities are considering policies to allow visually impaired passengers to board trains with their guide dogs, the Beijing Youth Daily reported Friday.
Registration of guide dogs began prior to the introduction of the new policy, which is expected in the near future, according to the report.
A department of the China Disabled Persons' Federation (CDPF), responsible for safeguarding legal rights, organized a seminar with railway authorities, the China Blind Person Association and guide dog owners and trainers on March 27.
Huang Xin, director of the operations department of the transportation bureau at the China Railway Corporation, said the department will work with the CDPF to accelerate the pace of policy-making.
The seminar was held following reports that a visually impaired passenger and his guide dog were prohibited from boarding a train in Nanjing, the capital of East China's Jiangsu province.
Visually impaired piano tuner Chen Yan, who owns a guide dog and attended the seminar, says a well-trained guide dog will not attack people.
According to a regulation issued last year, Beijing will allow guide dogs to board subway lines starting from May 1.