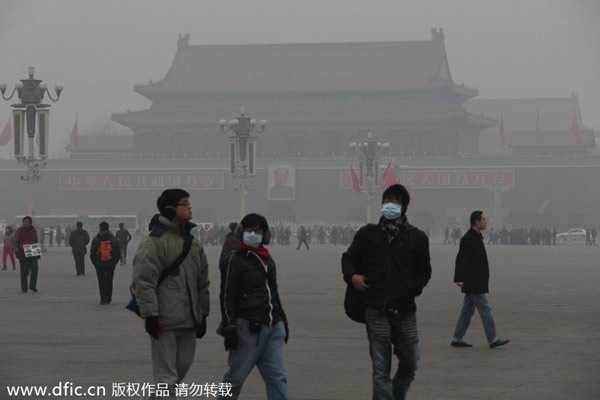 Tourists wearing face masks visit the Tiananmen Square in heavy smog in Beijing, Feb 25, 2014. [Photo/IC]
Exhaust fumes, factories, coal-burning and dust are the main sources of air pollution in most cities, accounting for 85 to 90 percent of the total pollutant source, said Wu Xiaoqing, vice minister of Environmental Protection, at a national environmental monitoring conference on Wednesday.
The analysis of air pollution sources in nine monitoring cities shows that car emissions are the main source of smog in Beijing, Hangzhou, capital of East China's Zhejiang province and Guangzhou and Shenzhen in South China's Guangdong province.
Coal-burning is the main contributor to air pollution in Shijiazhuang, North China's Hebei province and Nanjing, East China's Jiangsu province, while dust and industrial production are responsible in Shanghai, Tianjin and Ningbo, East China's Zhejiang province.
Beijing on Monday released an updated emergency plan stating that if heavy smog persists for more than three days the city will launch top-level emergency efforts to reduce pollutants, including restricting the use of private vehicles based on odd-and-even license plates.

Smog is a hot topic at the two sessions in March with Premier Li Keqiang vowing to enforce environmental regulations in the Government Work Report.
The efforts made by governments at all levels to curb pollution have had a positive effect in the past year, which to many marks the first year that air pollution has been reined in. More importantly, a mechanism for cross-regional cooperation involving both short-term emergency measures and long-term institutional endeavors, is taking shape.
According to statistics released by the Ministry of Environmental Protection, all 74 major Chinese cities subject to air quality monitoring of PM2.5, carbon monoxide and ozone reportedly met the national standards for clear air on 241 days on average last year.

For the Beijing-Tianjin-Hebei area, which has been plagued by frequent and severe smog in recent years, the figure was 156 days. The concentration of PM2.5 in the Beijing-Tianjin-Hebei area was reduced from 106 micrograms in 2013 to 93 micrograms over the same period. Such monitoring data indicate that the country's tough pollution fight throughout 2014 began to be effective. However, despite the decrease in PM2.5 concentration, the figure of 93 micrograms was still nearly three times higher than the standard level.