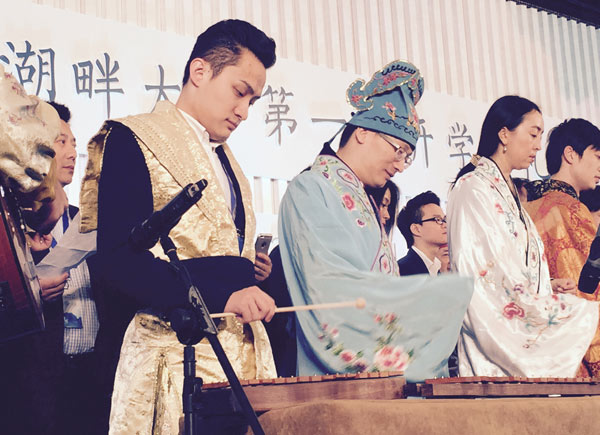 Entrepreneurs-turned-students take part in a xylophone-making lesson at Hupan College in Hangzhou, Zhejiang province. The college was the brainchild of Alibaba founder Jack Ma, who plans to provide firsthand Chinese business knowledge and training to top talent. Provided to CHINA DAILY
If you had a chance to study under Alibaba Group's founder Jack Ma on entrepreneurship, would you pass it up or grab it?
As many as 36 Chinese businesspeople seized the opportunity, weathering fierce competition to become the first group of students at Hupan College, which Ma created with seven other entrepreneurs and distinguished scholars whose aim is to nurture the country's next generation of entrepreneurs.
The college in Hangzhou, Zhejiang province, held its opening ceremonies on Friday.
Ma likened entrepreneurs to scientists.
"They are people with a certain gift. But once these gifted people are found, time and energy is needed to make them shine," he said.
The biggest difference between the course at Hupan and master's degree programs at other institutions is that people "study mistakes here", Ma said.
Ma, who turned a small website into one of the world's largest business empires over the past 15 years, said he wants Hupan to last for 300 years.
"It needs to be built not only by teachers but also by students," he said, adding that future student candidates will be recommended by their predecessors.
Wang Lifen, a widely known television producer and founder of UMIWI Multimedia Co, is in that first group of students at Hupan. She said she was asked to make suggestions on curriculum. "But what attracted me most is the legendary teachers and bright students Hupan was able to pull together," Wang said.
Hupan's co-founders include Feng Lun, a Chinese property tycoon, and Qiang Yingyi, dean of the School of Economics and Management at Tsinghua University.
To get into Hupan, applicants must have at least three years' experience in their own businesses and have a team of more than 30 people. Many in the inaugural class are well established, even leading, players in their individual industries.
The program lasts for three years, with tuition of about 280,000 yuan ($45,000).
Wang Yong, founder of Weiweipinche, a carpooling app, and a student at Hupan, said that for entrepreneurs who have a certain level of experience, traditional MBA courses can't satisfy their needs.
Ma, a former English teacher, will pass along his knowledge in person, according to the college's curriculum. His lecture, which focuses on business strategy, is scheduled to kick off on Saturday and run through Sunday.