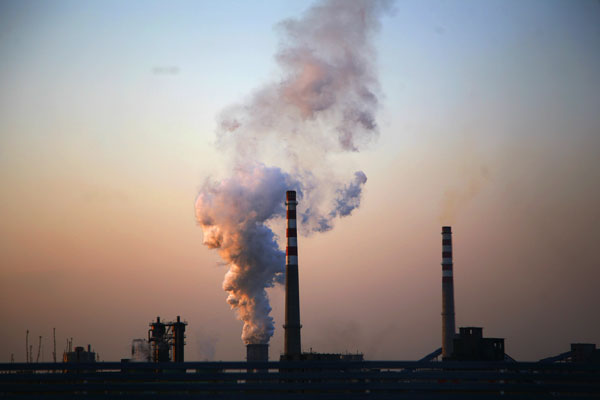 Smoke billows from a factory in Dezhou, Shandong province, in this file photo. [Provided to China Daily]
China has been heating up twice as fast as the rest of the world since the middle of the 20th century, said an official of the China Meteorological Administration on March 23, the World Meteorological Day.
Zheng Guoguang, head of the CMA, said that the temperature of China has increased by 0.23 degrees Celsius every decade since the middle of the 20th century, almost twice as fast as the rest of the world, and this extra heat has cost around 1 percent of China's GDP, eight times as much as the rest of the world, since 2000.
Zheng said the warming climate is posing great challenges to agricultural production, water supplies, and the safety of projects with strategic importance such as the Three Gorges Dam and the South-North Water Diversion Project.
The Chinese government has made cutting greenhouse gas emissions a priority in recent years.
In November 2014, a national blueprint on adapting to climate change from 2014 to 2020 was issued by the National Development and Reform Commission, China's top economic planning agency. It is China's first strategic plan to tackle climate change at a national level.
In the blueprint, the NDRC plans to cut CO2 emissions per unit of GDP by 40 to 45 percent by 2025 compared with 2005 levels.
In a deal signed with the US in November 2014, China pledged to cap its greenhouse gas emissions by 2030 and raise the proportion of renewable energy in primary energy consumption to around 20 percent.