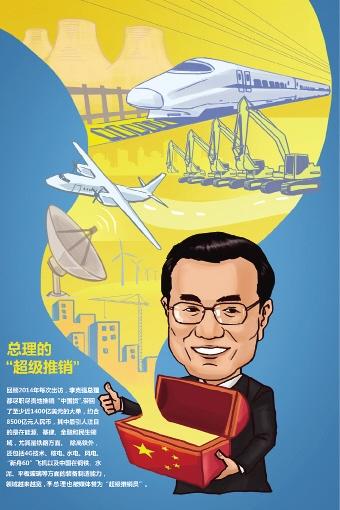 An illustrated version of the government work report features a cartoon image of Premier Li Keqiang giving a thumbs-up for Chinese products and and technology, including high-speed railways, nuclear and wind power, and the Modern Ark 60 commercial airplane; the media are calling him a 'super salesman'. [Photo: www.qq.com]
An illustrated version of this year's
government work report
has been published by the People's Publishing House and China Yanshi Press.
This is the first time an illustrated edition of a government work report has been released, according to a statement from the publishing houses.
Diagrams, charts and photos are included in the book to better show the highlights and priorities of the report, which sets China's 2015 economic growth target at approximately 7 percent.
The report was delivered by Premier Li Keqiang at the third session of the 12th National People's Congress on March 5 and adopted on March 15.
The publishing houses says the version will help people grasp and digest the content of the report.