The range of imported items available at duty-free shops in Hainan was increased on Friday in a bid to promote the island province as an international tourist destination.
An additional 17 types of product, including baby formulas, coffee and air fresheners, have been added to the duty-free program, taking the total to 38.
The revised program announced by the Ministry of Finance also eases restrictions on the amounts of 10 types of imported items that may be bought.
The change applies to popular categories such as cosmetics, perfumes and watches.
Wang Huiping, deputy director of Hainan's Department of Finance, said the changes are in response to complaints from some tourists about the limited choice of goods available.
The initial program was launched in April 2011 on a trial basis.
It allowed individual tourists and Hainan residents age 16 or above to enjoy duty exemptions on certain types of imported goods worth no more than 8,000 yuan ($1,283) in total before flying to other destinations on the Chinese mainland.
Hainan residents can only shop at the duty-free outlets once a year, while others can purchase items twice each year.
Figures from the local customs department show that, between the launch of the program and the end of last year, Hainan's duty-free stores received more than 4.08 million customers who spent a total of 10.9 billion yuan.
The province has two duty-free shops, one in the provincial capital of Haikou and the other in the resort city of Sanya.
A staff member at Sanya said the shop has been stocking up with the new types of goods to ensure there is an adequate supply.
Liu Deqian, a consultant at the Chinese Academy of Social Sciences' tourism research center, said the changes to the program will make the province more attractive to visitors and help to boost its economy.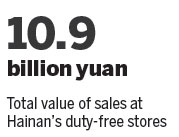 "During holidays, many Chinese tourists flock to other countries to go on shopping sprees, and this is mainly because goods sold abroad are much cheaper than the same products sold in China," Liu said.
"The revised program may change this situation, as the items that have been added are mostly daily necessities that Chinese tourists eagerly buy overseas."
He said the program has made such goods available in Hainan at attractive prices.
"Since the program caters to both domestic and foreign tourists, it's possible that someday foreign tourists will flock to Hainan for the shopping," he added.
Sun Li in Beijing contributed to this story.
liuxiaoli@chinadaily.com.cn