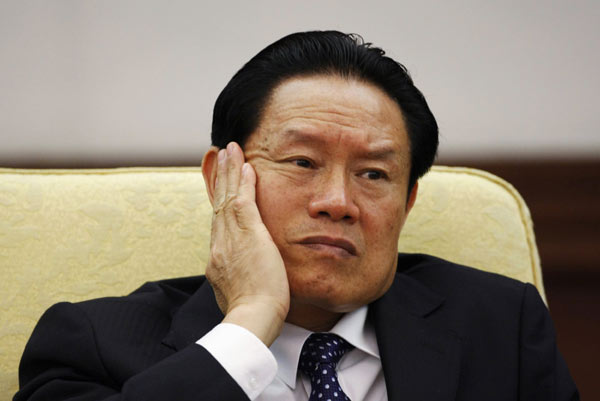 Then China's Public Security Minister Zhou Yongkang reacts as he attends the Hebei delegation discussion sessions at the 17th National Congress of the Communist Party of China at the Great Hall of the People, in Beijing in this October 16, 2007 file photo. [Photo/Agencies]
BEIJING - China's top court on Wednesday said it had cleared effects of ousted leader Zhou Yongkang on court work and instructed judicial staff to take a firm stance on major issues.
The Supreme People's Court said in its 2014 annual report that it had worked to make judicial staff see clearly the "severe harm" of Zhou and former senior official Bo Xilai, who had trodden on the law, damaged unity within the Communist Party of China (CPC) and conducted "non-organizational political activities."
Zhou Yongkang, former member of the Standing Committee of the Political Bureau of the CPC Central Committee in charge of political and legal work, was arrested and expelled from the CPC in December for serious breaches of Party rules and laws. Bo, former secretary of the CPC Chongqing Municipal Committee, was given life imprisonment in 2013 for bribery, embezzlement and abuse of power.
Last year, courts at all levels investigated 2,180 officers of the judicial system and transferred 180 of them to prosecuting authorities, according to the report.
Related: Ex-security chief 'had ties with other top graft suspects'
Former security chief Zhou Yongkang is suspected to have established close connections with other allegedly corrupt officials, according to a magazine website report.
Zhou allegedly formed links with Xu Caihou, the former vice-chairman of the Central Military Commission, and Ling Jihua, formerminister of the United Front Work Department of the Communist Party of China Central Committee, the Caijing.com.cn report said.
Xu died of bladder cancer on Sunday.
"Zhou allegedly abused his power to establish close political and economic interests with other corrupt officials, including Xu Caihou, Ling Jihua, Bo Xilai, the former Party chief of Chongqing, and Li Dongsheng, the former vice-minister of public security, who secretly formed factions," the report said.