Police arrest rising number of suspects as well as seize guns and ammunition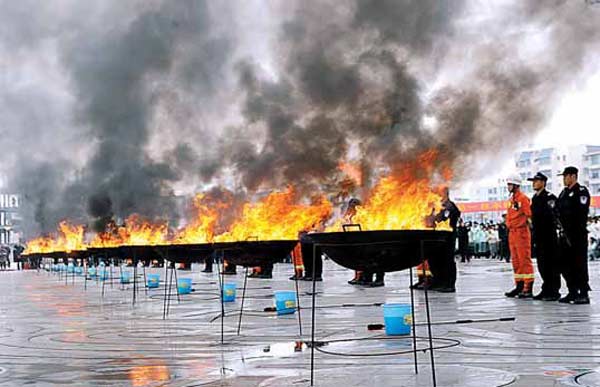 Police in Ningming, Guangxi Zhuang autonomous region, burn 1 metric ton of confiscated narcotics. [Photo/Xinhua]
China still faces a serious problem with drug-related crimes, although it has started to make some headway, according to a national report issued on Wednesday.
Over the past few years, there has been a strong market demand from drug addicts and huge profits via drug trafficking, said the report by the Institute of Law with the Chinese Academy of Social Sciences.
Last year, Chinese public security bodies uncovered 146,000 drug offenses, up 32.7 percent year-on-year, and arrested 169,000 suspects, a 15.7 percent increase, according to China Police Daily.
Meanwhile, armed drug trafficking around borders has become serious, said Ji Xiangde, who led the report for the institute.
From October to December, police investigated 45,600 cases involving drugs and detained 52,000 suspects across the country, as well as confiscating 542 guns and more than 40,000 rounds of ammunition, according to the daily.
"We are frequently seizing weapons from drug traffickers, and a few even became violent when they were caught," Ji said. "Some traffickers are also drug users, and they often had hallucinations when they were trafficking."
Chinese public security bodies developed their first cooperative campaign against drug trafficking on the China-Vietnam border last year, turning up more than 3,100 related cases and detaining more than 3,800 suspects, the daily said.
"International drug trafficking has caused great difficulties for police and requires a lot of investigation," Ji said, adding that he approves of launching more campaigns like the one between China and Vietnam to alleviate the cross-border drug problem.