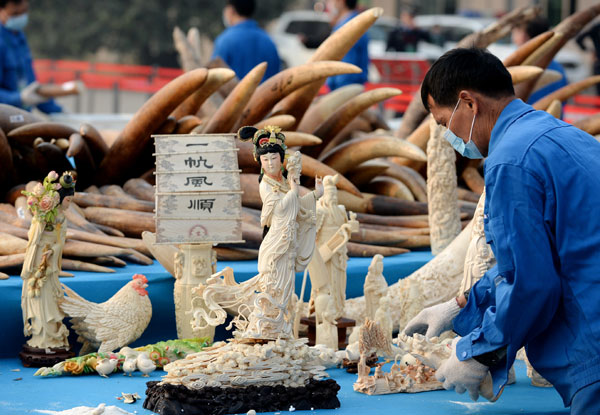 Officers from the State Forestry Administration and the General Administration of Customs destroy 6.1 tons of illegal ivory items in Dongguan, Guangdong province, in January last year. It was the first time China destroyed confiscated elephant ivory. [Photo/Xinhua]
China is committed to cooperating with the international community in stopping poaching and the ivory trade, Foreign Ministry spokesman Hong Lei said on Thursday.
Beijing takes a zero-tolerance approach to the illegal ivory trade and efforts have been made in improving related laws and regulations to crack down on the buying and selling of ivory, Hong said in response to an open letter asking Chinese President Xi Jinping to end China's involvement in the ivory trade.
According to the letter on the website of Action for Elephants UK, African elephants are dying every year in their tens of thousnds, to feed the appetite for ivory of consumers in China and elsewhere.
China has complied with the Convention on International Trade in Endangered Species of Wild Fauna and Flora since joining and has actively participated in law enforcement with other countries, Hong said.
"We have conducted exchanges with countries where African elephants live, stepped up personnel training and funded activities aimed at protecting elephants," he said.
Hong also called for all parties to work together in banning illegal activities and protecting elephants. "China will continue to promote cooperation with the international community in this regard," he said.