Spring Festival is no longer a time solely for family reunions in China as more and more Chinese are traveling abroad during the holiday. Shopping has one of their most important missions during the weeklong vacation.
From Japanese electronic toilet seats to Swiss luxury watches, Chinese tourists have been globe-trotting in pursuit of purchases in department stores and luxury shops.Here are a few items that are most popular among Chinese shoppers. Some of the items might be widely accepted in other countries, but there are also a few items that are might be a little weird.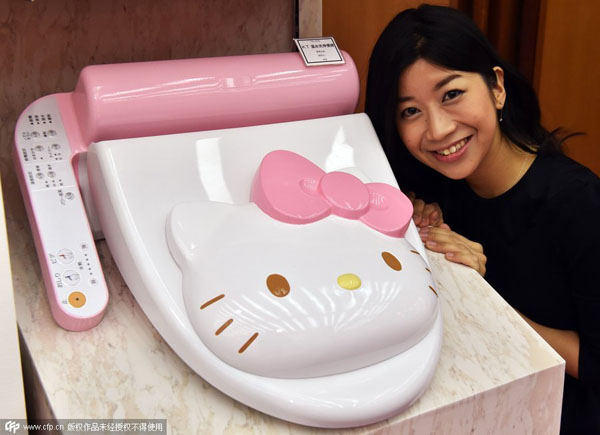 An employee for Japanese company Sanrio displays a prototype model of a Hello Kitty branded toilet seat at Sanrio's headquarters in Tokyo on February 2, 2015. The toilet seat has seat heating and warm water shower functions. [Photo/CFP]
Toilet lids
A large number of Chinese tourists rushed to Japan to buy toilet seats during this past Spring Festival holiday. The item is popular among Chinese consumers because they are equipped with a variety of auxiliary functions such as heating and sanitizing. A report by Chongqing Evening News on Thursday said some of the toilet seats were possibly made in China.