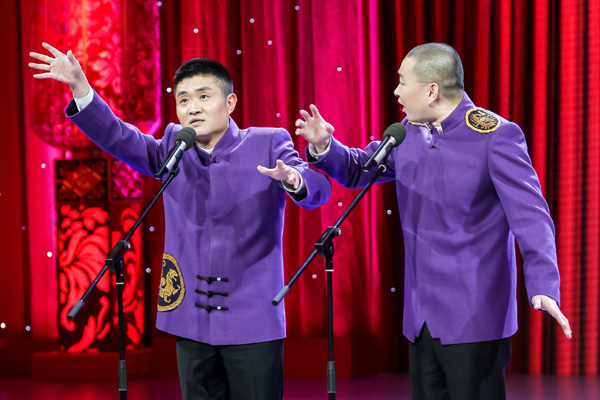 Miao Fu and Wang Sheng perform at CCTV Spring Festival gala in Beijing, Feb 18, 2015. [Photo/IC]
BEIJING - An anti-corruption storm swept China last year and the public saw the effects during the annual Spring Festival TV gala on Wednesday evening.
At least three pieces in the China Central Television (CCTV) gala had anti-corruption themes.
A stand-up routine, "It's not mine," performed by young comedians Miao Fu and Wang Sheng from northwest China's Shaanxi Province, depicted an corrupt official who took bribes including a car, a house and also a woman, if a woman can fairly be described as a bribe.
It was labelled the "most sarcastic stand-up comedy in three decades of galas."
Miao told the Beijing News that the Shaanxi provincial discipline inspection commission helped them a lot by telling them tales of typical corruption cases across the country.
At the end of the sketch the "official" decided to turn himself in to the graft-busters.
The show was widely praised on the Internet with the only complaint being that it was not funny enough.
Another stand-up routine focused on the social phenomenon of "making friends" through bribery in order to get things done, which no longer works, as the sketch showed.
A short play satirized officials using public funds and taking advantage of their superiors' hobbies to get promoted.
Anti-corruption terms familiar to the public recently including "tigers and flies" -- high and low level corrupt officials -- were frequently used.
The anti-graft drive has brought down scores of ranking officials. The year 2014 saw a number of high profile cases that shocked the country, including that of Zhou Yongkang, former member of the Standing Committee of the Political Bureau of the Communist Party of China (CPC) Central Committee; and that of Xu Caihou, former vice chairman of the Central Military Commission.
A total of 71,748 officials were punished in 2014 for breaking anti-graft rules, said the CPC Central Commission for Discipline Inspection (CCDI).
The CCDI has been open with the campaign, and the public has followed its moves in several ways including through its website and mobile app.