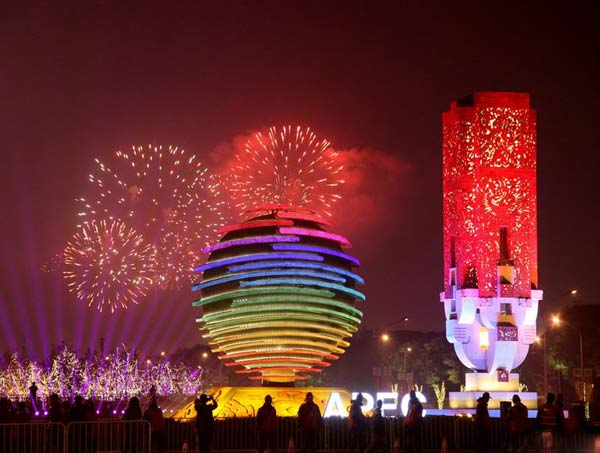 Fireworks light up the sky in Beijing on November 4, 2014 in a rehearsal for the display during the upcoming APEC meeting. [Photo/IC]
Manufacturers are working to develop more environmentally friendly fireworks, due to environmental concerns and in an effort to rejuvenate the market hurt by firework display bans.
The alternative products are mostly made with improved black powder and new chemicals that contain less heavy metal and sulphur, reducing emission of harmful sulfide.
Setting off fireworks during the Lunar New Year is an age-old tradition in China, with ancient superstitions believing that light and sound scare away evil spirits. In more recent years, they're used to bring a festive atmosphere during the country's most important holiday.
However, fireworks have been increasingly blamed for contributing to the country's smog problem, pushing local governments to implement measures forbidding or limiting firework displays.
According to Panda Fireworks, the company that developed sulfide-free fireworks last year, the new fireworks now account for 70 percent of the products prepared for sale this Spring Festival.
About 70 to 80 percent of the products of Lidu fireworks company located in Jiangxi are environmentally friendly, claimed vice general manager Hou Zhongping.
Green fireworks, however, are still a niche product as research and development costs have pushed their prices up.
According to Wang Sheng, a firework store owner, the price of one box of sulfide-free green fireworks is about 600 yuan ($95.9), 10 to 15 percent higher than normal fireworks.
In China' Henan province, an inventor has created a new kind of firecracker that uses no explosives.
Producing an explosive sound by releasing compressed air from a closed cavity, his fireworks cost around 150 yuan per unit, 10 times the price of traditional firecrackers.
The price of green products will hopefully drop as market demand and production expand.
Chen Jian, a political advisor in Jiangxi Province, said local governments should take measures to help the firework companies research and develop environmentally friendly products.
Rao Hui, chief engineer of the environment monitoring station of Nanchang City, said green fireworks can both satisfy the needs of environmental protection and reservation of traditional customs.
Authorities should help strengthen the market demand for green fireworks by heightening public awareness of the merits of the products, he said.
Next up:
Fireworks industry faces bleak winter amid smog concerns