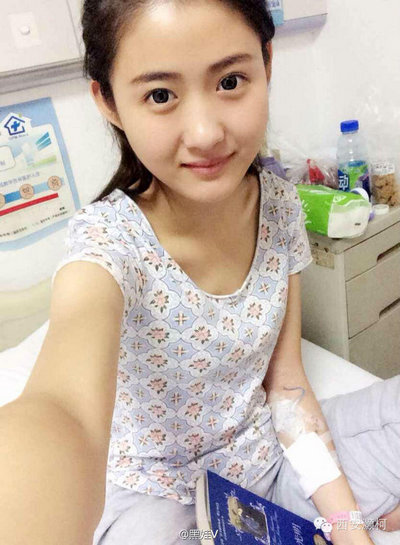 Li Na in treatment. [Photo/Sina Weibo]
Li Na, a 20-year-old Chinese woman who was praised as the "Most Beautiful Young Woman with Cancer", died on Sunday morning at the Gaoling county hospital in Shaanxi province, Hua Shang Daily reported.
Li Na's story has gone viral online over the past year for her optimistic spirit and strong-willed determination to fight her lung cancer.
In October 2014, she participated in reality talent program Chinese Dream Show on Zhejiang Satellite TV after her story was reported by local media.
Li was born in Gaoling County in Xi'an, capital of northwest China's Shaanxi province. Her short life was marked by terrible suffering: eight years ago her leg was amputated at the thigh because of osteosarcoma and three years ago her mother died of lupus.
Li Na said that when she was 12 she came back from hospital with a leg missing, and had to use a wheel chair. Her father Li Yongli said that the amputation devastated Na's mother and she could not bring herself to even come to see her daughter for a week after the surgery.
Li Na suggested that it was perhaps her amputation that caused her mother's illness. After the surgery her mother often fell ill. Later, her mother was confirmed as suffering from lupus erythematosus and died in 2012.