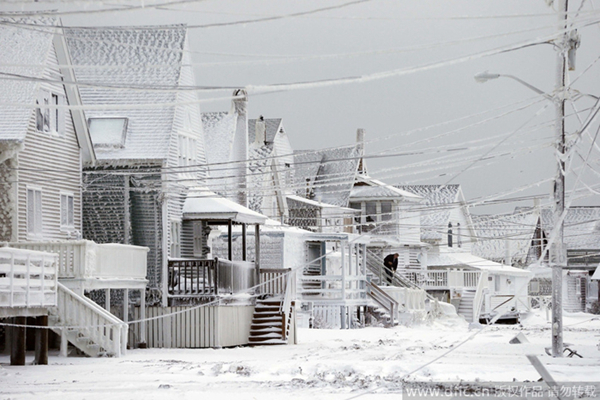 A community pictured in Scituate, Massachusetts, on Wednesday, Jan 28, 2015 [Photo: Imagine China]
During this mid-winter, blizzards have been sweeping across many countries. Forecasters in China have also issued their second-highest-level alert for heavy snow that is rolling into China's eastern regions.
The National Meteorological Center warned heavy snow is set to hit parts of Shaanxi, Henan, Hubei, Anhui and Jiangsu provinces over the next 24 hours.
Apart from heavy snow, people in these provinces have another concern: the cold weather.
Not all residents living in these places have heating facilities, which makes them very vulnerable amid the dropping temperatures.
China's heating system
China's heating system is very different from other countries in the world.
Back in the 1950s, the central government drew a line across the country, stipulating places located above the line can enjoy a central heating system with subsidies from the government, whereas no heating systems would be provided to places below the line.
The line is then called the heating line by the public, which basically separate China into the north and south.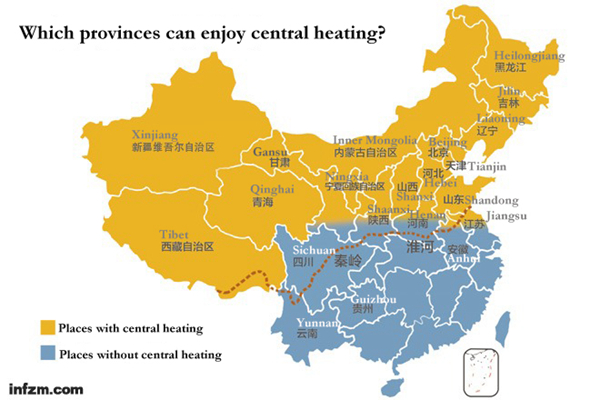 The heating line in red [Photo: infzm.com]
As stiff as the policy may seem; however, it was the most feasible way at that time when the country was suffering from a severe energy shortage.
But after more than six decades, the public, especially those living below the line, are calling for a change on the policy.
People in central China think the weather in their cities is also cold and they want a heating system like the northern provinces as well.
Many provinces and cities have also seen formal suggestions submitted on the issue.
But not much has changed since, with only debates going on every winter.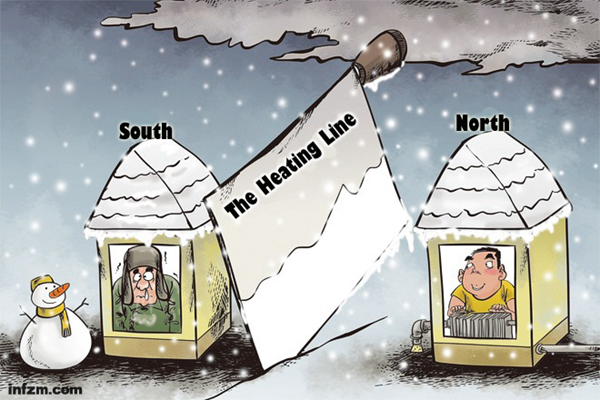 [Photo: infzm.com]
Pros:
Many people living in central China (Hunan, Jiangsu, Guizhou, Sichuan, Anhui and parts of Jiangsu, Shaanxi, Henan) think that the line is unfair to them.
The lowest temperature can reach minus 10 Celsius degrees in winters in these provinces. With high humidity, it feels even colder.
Some people would choose to burn coal or use air-conditioners during winters.
It is no doubt that the emission of coal burning is the main cause to air pollution in China.
The use of air-conditioners has also pushed power consumption up by over 390 times in less than a decade.
Therefore many people think a central heating system could make better use of resources. For instance, hot water that is usually dumped by a thermal power plant can be used for heating in residential buildings.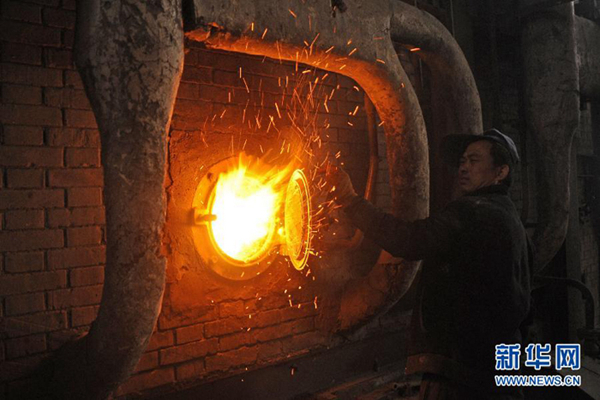 The undated photo pictured a worker throwing coal into a furnace for heating in Yinchuan, north China's Ningxia Hui Autonomous Regiaon. [Photo: Xinhua]
Cons:
Amid strong calls for a central heating system, there are also people thinking it is not environmentally friendly.
A deputy minister in the Ministry of Housing and Urban-rural Development said the central heating system cannot simply be expanded over the line to some central provinces. Otherwise, it may result in massive over-uses of energy.
China's central heating system largely depends on coal burning. In 2012 alone, northern provinces burnt over 700 million tons of coals for heating.
It should also be considered that the design of buildings in the south cannot preserve heat, which will end up with using more coals for heating systems.
Suggestions:
Instead of a central heating system, homes should install their own heating facilities.
There are some new residential communities in central China that have already installed their own heating facilities. It is said homes equipped with heating facilities can also be priced higher.
The establishment of a heating system should also be determined by a provincial or local government. Considering the wide span of China's geography, the central government cannot make a sole decision that is comfortable for everyone.