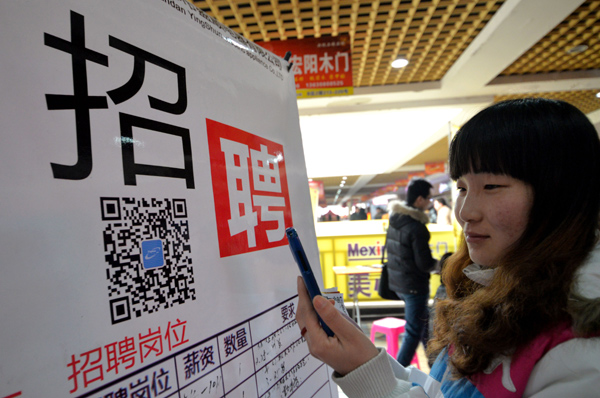 A job hunter scans the code at a recruitment fair in Handan, Hebei province. Job ads are being seen more frequently in social media such as micro blogs and WeChat, in recent years.[HAO QUNYING/CHINA DAILY]
With social media engaging massive numbers of users in China, platforms like WeChat and micro blogs are increasingly being used as recruitment tools.
Job ads from private recruiters and companies are seen more frequently on micro blogs and WeChat, a sign that Chinese employers have begun to embrace social media recruitment, a move that helps them tap into a larger pool of talent.
"The use of WeChat and micro-blogging is becoming a popular way to recruit. It's fashionable among recruiters who have accounts on social media platforms," Zhu Hongyan, a senior career consultant at Zhaopin, an employment website, told China Daily.
"Using social media enables recruiters to reach out to a wider audience more effectively, given that such platforms have become the major information-sharing tool among the prime working age population," Zhu said.
WeChat enables 468 million monthly active users in the third quarter of last year, while micro blog users surpassed 275 million, according to the China Internet Network Information Center.
WeChat enable users to assemble a huge number of contacts and access a large audience.
Smile Xu, managing director at sports marketing agency Miles Group, posted a job ad for an account manager on her WeChat account in early December and quickly received a dozen resumes.
"Though the number of interested applicants was fewer than expected, they were of better quality compared with traditional recruitment," said Xu, who regularly posts photos of work and events her agency promotes.
"At least people understand what they are applying for," she said. "Friends, acting as matchmakers, will brief potential candidates they know about a job because they are in the same field and know what the job entails."
Fu Zhu, the former recruitment head of e-commerce giant Jingdong, said the traditional hiring channel is facing the challenge of cost and quality, as social recruiting through platforms like WeChat and LinkedIn provides a more time-effective channel.
"Using traditional methods, we can only select from active candidates who send resumes for certain positions. But in China, more skilled employees are passive candidates who can be better reached through social recruiting channels," said Fu.
Rather than submitting resumes randomly at job fairs and on employment sites, job seekers can now reach recruiters directly and take advantage of targeted job referrals.
"In my WeChat group talk, classmates, teachers and some alumni constantly forward selected employment information related to my specialty, which helps me to target employers more effectively," said Zeng Qinbing, a senior student at Dongguan University of Technology in Guangdong province.
However, high-profile employers in China appear to prefer the traditional approach to recruitment.
In August 2014, Maximum Employment Marketing Group conducted research on the status of WeChat recruitment for Fortune 500 companies.
While 80 percent of Fortune 500 companies operate in China, only 7 percent have set up specific career accounts on WeChat, and of those, only 19 percent support direct application through WeChat.
"Despite the growing awareness, social media recruiting remains in the early adoption phase," said Zhaopin consultant Zhu.