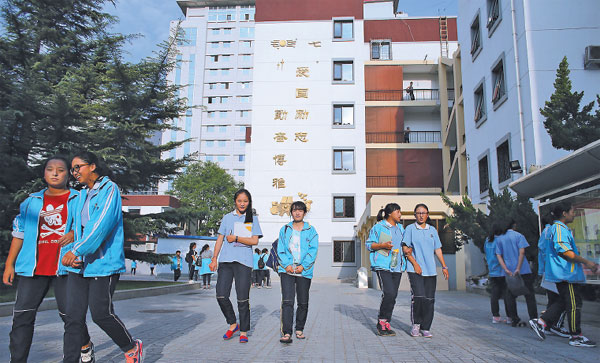 Tibetan students walk on campus at the Beijing Tibet Middle School, where many leaders have been nurtured. Luo Wangshu / China Daily
With dreams and ambitions as her only companions, Tsangyal, a native of Nyingchi prefecture in Tibet, left home and traveled thousands of kilometers to Beijing in September 2013 to become the first member of her family to study outside of the autonomous region.
A year later, the 17-year-old student remembered almost every detail of the first weeks in Beijing as if it were yesterday. "I cried almost every night. I missed my parents," she said, adding that the weather in Beijing was stiflingly hot and she caught colds easily.
But nothing was going to stop her from pursuing her dream to study in Beijing Tibet Middle School, one of 28 such schools set up in 21 provincial regions outside of the autonomous region.
She is one of thousands of Tibetan students who are currently enrolled in the program that bids to reduce the education gap between Tibet and other parts of China and provide better education opportunities for Tibetan youths.
"The most essential purpose in establishing the schools in municipalities and other provinces outside of the autonomous region was to narrow the education gap between Tibet and other cities, train young people from ethnic groups and rapidly increase the education quality in Tibet," said associate researcher Benpa Lhamu at the Tibetan Academy of Social Sciences.
The program, launched in 1985, has sent nearly 35,000 students to attend middle schools outside of Tibet, and nearly 20,000 have returned to work in their hometowns.
Before 1951, the vast majority of Tibetans were illiterate, since monasteries were the only place to learn to read and write. In 1984, former vice-premier Tian Jiyun led an education inspection in the region and found that there was room for improvement.
"Creating Tibetan schools outside of the region was a more efficient way to train Tibetan students," Benpa Lhamu said.
It was also done out of political considerations, Benpa Lhamu said, recalling that at about the same time, India was advertising in Tibet that it would give quality education to Tibetan youths for free.
"It was a youth battle," she said.
Related: Outpost in Beijing gives mixture of home, culture and learning