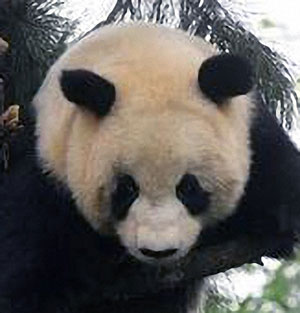 Feng Feng
Vets are racing to treat a 5-year-old
panda
diagnosed with canine distemper at the Shaanxi Rare Wildlife Rescue and Breeding Research Center.
Feng Feng, a female, has serious heart, liver, kidney and lung damage from the virus, which has killed two other pandas.
"Canine distemper is a fatal disease for pandas, with the death rate as high as 80 percent," said Wang Chengdong, director of the animal hospital at the Wolong National Nature Reserve in Sichuan province.
Feng Feng tested positive for canine distemper on Dec 26.
Cheng Cheng died on Dec 9, and Da Bao on Jan 4 at the Shaanxi center. Both were 8 years old. Another infected panda, 14-year-old Zhu Zhu, was in stable condition there.
Canine distemper, which can kill dogs and other members of the canine family, can also infect pandas. It affects the gastrointestinal and respiratory tract, spinal cord and brain.
Zhang Hemin, director of the Wolong reserve's administrative bureau, said, "Canine distemper, parvovirus, hemorrhagic colitis (a type of gastroenteritis) and intestinal flu are among the diseases that may cause pandas to die.
"Canine distemper and parvovirus are more often found among wild pandas, while captive pandas are more likely to fall victim to hemorrhagic colitis and intestinal flu," he said.
In 1989, when the Chinese Committee of Breeding Techniques for Giant Pandas was formed, there were only 92 captive pandas worldwide. There are now more than 380.
Captive pandas are kept mainly at three bases, at Wolong, the Chengdu Research Base of Giant Panda Breeding and the Shaanxi Rare Wildlife Rescue and Breeding Research Center.
The rise in population density has resulted in a higher risk of infectious diseases.
Pu Anning, head of the general office at the Chengdu research base, said, "If a panda catches flu, other pandas fall victim, too."
To find a solution, Wolong, which has 200 captive pandas, opened a new base covering 51 hectares in Dujiangyan, Sichuan, last year. It houses 27 pandas.