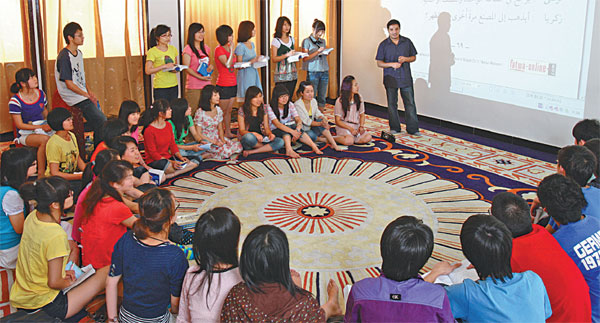 A teacher from Yemen gives a lecture on Arab culture to students in the Arabic department at Zhejiang Yuexiu University of Foreign Languages. Provided to China Daily
A rapid rise in the number of students of the language has created a generation of graduates that will have to look beyond government ministries and embassy postings to find work commensurate with their skills, as Zhao Xinying reports.
When Han Haifen chose to study Arabic as her college major in 2008, she didn't expect to work in the field for long.
"I wasn't interested in the language or cultures of the Arab states, and unlike a couple of my classmates whose families were doing business with Arab people, I didn't have a motive for studying the major."
Now, having worked for four years and visited a number of Arab countries on business, the 25-year-old has started to understand the fun of utilizing the language and communicating with Arab people.
"It's an advantage at work, and a self-enriching process in life," said Han from Hangzhou, the capital of Zhejiang province. "I wouldn't have had those experiences if I'd made a different choice."
Han enrolled at Zhejiang Yuexiu University of Foreign Languages in Shaoxing city in 2008. The college was enrolling the first students for its new Arabic major, and Han, who decided to apply on a whim, was one of them.
In 2011, armed with her skills in Arabic and business negotiations, Han landed a job with a garment export company and was sent to Morocco to promote its products and drum up new orders.
"Many of my classmates and alumni are doing similar jobs," said Han, who has transferred to a different company, but still deals with Arab-related trade.
Her story is a familiar one to Ma Chengwen, director of the Arabic language department at Han's alma mater, who said about 70,000 to 80,000 people from across the Arab world are running businesses in Yiwu, a city in Zhejiang province that's famous for the production and export of commodities such as garments and handicrafts.
Arab-run companies and Chinese businesses with connections to Arab countries also operate across South and East China, in places such as Hangzhou, Ningbo in Zhejiang province, and Guangzhou in Guangdong province.
"Large numbers of our graduates are needed in these places to handle phone calls, e-mails, or basic translation and interpreting work in Arabic," Ma said, adding that some students in the class due to graduate in June have already been hired. "It's a growing area."
Growth in China
In a research article, Chen Jiahou, a retired Peking University professor and expert on Arabic language and culture, wrote that Muslim merchants from Arabic countries brought the language to China during the Tang Dynasty (AD 618-907), and for a long time it was only comprehensible to Chinese Muslims.
Things began to change in 1946 when Peking University founded China's first Arabic major. "At that time, few people in China knew anything about Arabic. They mistook it for the language of the Hui ethnic group," Chen wrote in the article. "In fact, it's the religious language of China's Muslims, most of whom are members of the Hui or Uygur ethnic groups, and is used in religious rituals, such as chanting and praying."
By the 1960s, seven other higher education institutes, including Beijing Foreign Studies University, the University of International Business and Economics, and Shanghai International Studies University, had founded Arabic language majors.
As a result the number of graduates rose, and many were assigned to important posts - becoming ambassadors, officials and professors - to promote or research the relationship between China and the Arab world.
Beijing Foreign Studies University founded its Arabic major in 1958, and more than 50 of its graduates have become ambassadors. In 2013 alone, half of all China's ambassadors to the 22 Arab countries were BFSU graduates.