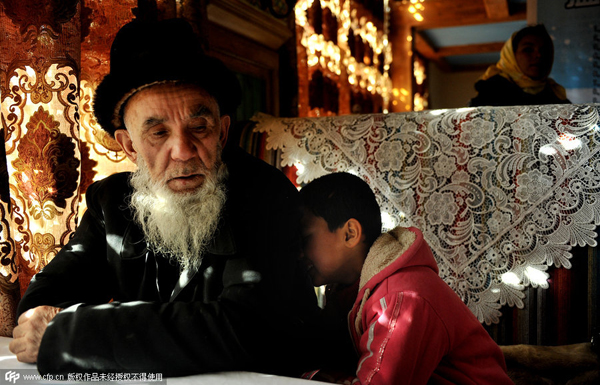 Abdurehim, whose family have been farmers for three generations, stays with his granddaughter, Jan 12. The girl suffers from a rare disease that has left her unable to walk and Abdurehim prays every day that her disease will be cured. [Photo/CFP]
Kashgar, or Kashi in Chinese, is the westernmost city in China, sitting in the southeast of Xinjiang Uyghur Autonomous Region. Located near the border with Tajikistan and Kyrgyzstan, the county-level city has a history of more than 2,000 years and is the economic, political and cultural center of Kashgar prefecture.
It has a population in excess of 350,000 comprising ethnic groups including Han, Uyghur, Hui and Uzbek people. It lies at the junction of two branches of the old Silk Road and has been a trading center since. We talk to people of different ethnicities and nationalities living in Kashgar allowing  them to share their lives in the city.