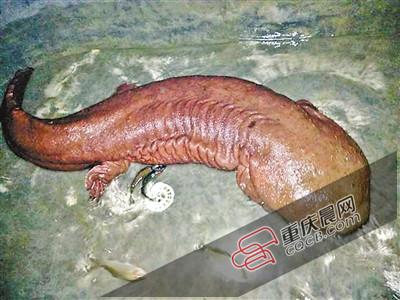 A Chinese giant salamander, estimated to be 100 years old and worth more than 100,000 yuan ($16,000), is a dear treasure to its owner, reported the Chongqing Morning Post on Wednesday.
Its owner Tan Zhiqing, the president of a breeding farm in Wushan county of Chongqing municipality, bought the valuable salamander in 2008.
At that time, the male salamander weighed 15 kilograms. Now it is 45 kilograms and 1.7 meters long.
Tan says the salamander almost swallowed his female counterpart during their first mating and also left scars on his breeder's hand.
Tan, who has invested in commercial farming of the species for more than ten years, finally gave up hope on using his prized giant salamander for breeding.
He rejected an offer of 100,000 yuan for the animal because he doesn't want to part with it, as he believes it brings him good luck.
"It has become a pet for our people," Tan says.
The salamander is nicknamed the "infant fish" in China because it makes a sound that bears a striking resemblance to a baby's cry.
The salamander is critically endangered in China, as they are a food source and sought after ingredient in traditional Chinese medicine. Loss of habitat and pollution are also ongoing threats.