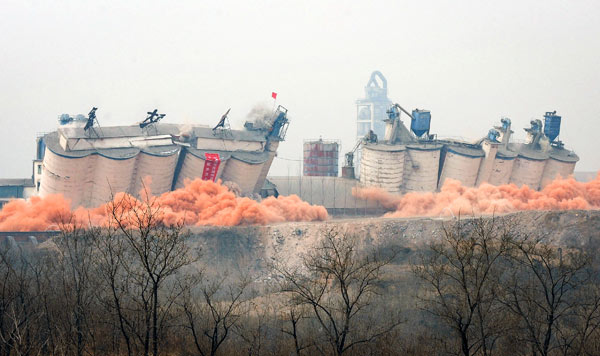 A cement factory is demolished by blasting in Shijiazhuang, Hebei province, in February. Eighteen cement production lines were destroyed in the campaign that was aimed to reduce redundant cement production capacity. ZHAO WEI/CHINA DAILY
Cities crack down on the number of cars on roads, junk substandard vehicles
On Dec 29, authorities in Shenzhen announced imminent restrictions on vehicle purchases, sparking a rush among residents to buy cars just hours before the cap took effect.
With the move, the southern metropolis in Guangdong province joined other major cities that took tough measures last year to limit vehicle emissions amid a national campaign to reduce air pollution.
Environmental specialists and observers say China's strict controls on industrial polluters and other emitters have recorded impressive achievements in its green drive, but there is a long way to go before pollution reduction targets can be met.
Shenzhen's new restrictions cut its annual vehicle quota to 100,000 units. By September, there were more than 3 million vehicles in the city.
Over the past decade, cities including Beijing, Shanghai and Guangzhou have applied similar policies to rein in the rapid increase in the number of vehicles on their roads.
The National Development and Reform Commission, the country's top economic planner, has released plans to pro-mote the use of new energy vehicles and phase out models with high emissions in key are-as such as the Beijing-Tianjin-Hebei zone this year, and to expand the measures nation-wide by 2017.
More than 6.11 million vehicles across the country that do not meet green emission standards had been taken off the roads by the end of November, surpassing the year's goal of 6 million, the Ministry of Environmental Protection said.
These efforts to reduce vehicle emissions took center stage in 2014, when vehicles were highlighted as a major source of the pollutant PM2.5-air-borne particles smaller than 2.5 microns in diameter that can penetrate the lungs to seriously harm health-in cities such as Beijing, where 31.1 percent of airborne pollutants come from vehicle exhaust.