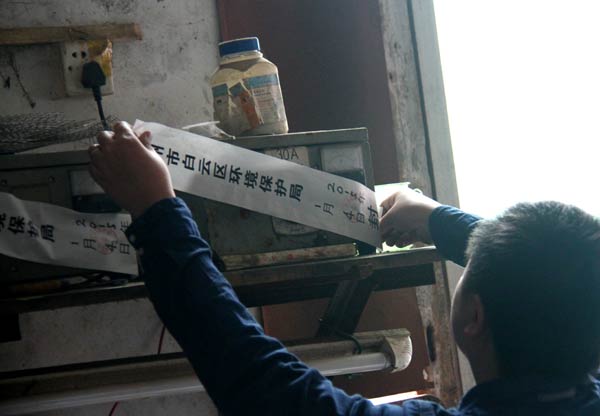 Equipment at a watchmaking plant is sealed by a member of the environmental supervision team of Guangzhou, Guangdong province, on Jan 4 after the company was found to be seriously polluting the surrounding environment. [Photo/China Daily]
Environmental protection authorities now have greater powers to stop polluters through measures such as sealing production equipment or transferring the offenders to judicial organs, the top environmental watchdog said on Thursday.
Accompanying the implementation of the revised Environmental Protection Law, the Ministry of Environmental Protection released guidelines with requirements on the levying of daily fines, sealing of equipment, suspension of production and public release of polluters' information, all of which came into effect on Jan 1.
"The four supplementary guidelines will shorten the process after discovery of pollution, leaving fewer days for companies to continue to emit pollutants, as they have previously," said Cao Liping, deputy director of the ministry's Bureau of Environmental Supervision.
"From the cases since the implementation, we have seen the guidelines have started to work, making reactions effective and efficient," he added.
On Jan 4, the first working day after the law took effect, three managers of companies that refused to stop polluting were detained in Xiangtan, Hunan province.
Previously, the administrative detention of managers of polluting companies was part of a package with other punishments, and the process took at least 120 days.
"We (the environmental supervision team) conducted a joint inspection with the public security team, who executed the detentions, thus enabling quick responses," said Liu Qiwu, deputy leader of the team.
"Without a joint inspection, we can transfer the people responsible for pollution cases to public security much more quickly because of the new guidelines and law."
The environmental authorities have also had other powers strengthened.
On Jan 4, the environmental authority of Guangzhou, Guangdong province, sealed the equipment of two plants found to be severely polluting the environment.
"We managed to stop their pollution completely a year after it was first discovered because we are now allowed to seal equipment directly, instead of waiting for a long time to apply for administrative punishment from the courts," said Zheng Zewen, division leader of the environmental supervision team of Guangzhou.
His team twice made court submissions in 2014 to stop pollution from a waste mineral oil processing factory, but the factory refused to follow the court orders, making the process toothless.
However, the swift suspension of business on Jan 4 demonstrated the new power of environmental protection bureaus to punish polluters, and is a powerful warning to other offenders, said Cao, the deputy director.
"Moreover, the combined efforts from the four guidelines will amplify the effects to shorten the time between pollution being discovered and the execution of punishment," said Zheng.
"The environmental authorities also need to follow the stipulations strictly to avoid violating the companies' interests," Cao said.