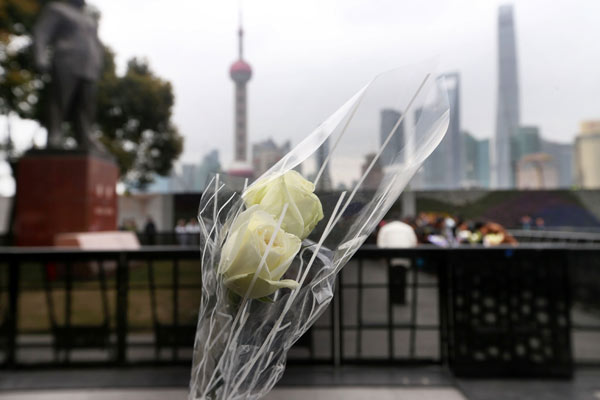 Flowers are placed on Tuesday at the site where 36 people were killed in a stampede during a New Year's Eve celebration on the Bund in Shanghai. DING TING / XINHUA
SHANGHAI - The city of Shanghai was steeped in sorrow on Tuesday as citizens and victims' families visited the site of the New Year's Eve stampede to mark the seventh-day commemoration of the tragedy.
Braving freezing temperatures and drizzle, visitors laid flowers and winter clothes on the Chen Yi Square near the Bund area, where the stampede killed 36 people and injured 49 others.
There were tearful moments for relatives of the victims, some of whom, overwhelmed by sorrow, fainted at the site and were attended to by medical staff on stand-by.
Many held portraits showing the young faces of the deceased.
"We felt so sad that these young lives vanished in such a happy moment," said a tourist from Anhui Province, who placed flowers at the site.
The crush happened at about 11:35 p.m. on Dec. 31 on the Bund, a riverbank walk where tens of thousands of revelers gathered to ring in the New Year against the backdrop of illuminated skyscrapers along the Huangpu River.
Tuesday marked the seventh-day commemoration of the tragedy. In China, the seventh day after any death marks the height of mourning as people believe that souls come back to the earthly world to pay their last visit to family on that day.
The site was cordoned off on Tuesday, and visitors were ushered in by government workers. Some police officers patrolling the site said they had joined in the rescue mission that night and were here to lament the death.
The tragedy in one of China's wealthiest and most modern cities has raised concerns over urban management and emergency response in China's crowded cities.
Shanghai Mayor Yang Xiong said Tuesday at a conference of the city's legislature that Shanghai must draw a lesson from the New Year's Eve stampede and reflect deeply on the incident.
"The lesson was extremely profound and extremely painful," he said, adding that the cause of the accident is yet to be confirmed.
"We hope such disasters will never happen again," said a Shanghai citizen at the site.